While the Chinese track cycling program has slowly grown the past four years, it was not so much its first gold medal in the women's team sprint that caught the eyes of fans in the Olympic velodrome.
It was the design of the rider's helmets.
The tops of those worn by the duo of Gong Jinjie and Zhong Tianshi have been painted in the style of traditional masks worn by performers in Peking opera, the centuries old Chinese opera that combines dance, acrobatics, mime and music with vocal performances. One of the helmets depicts ancient Chinese heroine Mu Guiying and the other is of the legendary female warrior Hua Mulan.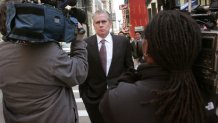 That would be the same Mulan from the Disney film.
Another Chinese rider, Xu Chao, has a male warrior painted atop his helmet.
The Olympics have become somewhat notorious for limiting self-expression, particularly when it comes to the gear worn in competition. But the reigns have been loosened in recent years with wrestlers now allowed to wear their own singlets rather than the plain red and blue of past Olympics.
The Chinese helmets, made by Kask, were painted by graphic designer Zhang Dongliang.
Maybe the helmets are striking fear in their opponents, too. Gong and Zhong teamed to win China's first track cycling gold medal by defeating Russia's Daria Shmeleva and Anastasia Voynova in the finals.
Copyright Rio2016