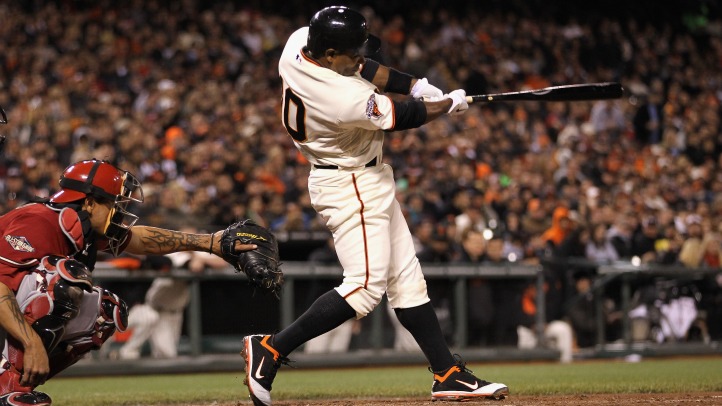 The Giants are back in first place in the NL West.
It obviously wasn't easy ... but nothing is for this team. In fact, it took some luck (duh), it took some good bullpen pitching (obviously) and it took some surprising contributions on the offensive end (as always).
The most surprising? 2011 metaphorical black hole Miguel Tejada. For the entire 2011 season, the $6 million man has been a source of constant vitriol from Giants' fans thanks to his lack of offensive and defensive capabilities.
But on Wednesday night, Tejada's bat finally came alive as the much-maligned shortstop helped push the Giants back into first place in the NL West.
"I've felt good from the first day I signed here," Tejada said, per Henry Schulman of the San Francisco Chronicle. "I'm really sorry because, from yesterday and before, I didn't hit the way I was supposed to be hitting.
"I've got to do something for this team because they had a lot of confidence in me."
Miggy didn't do it all by himself, of course. Aubrey Huff hit a jack, Buster Posey scored some runs, and Andres Torres (good to have him back, huh?) ground-rule doubled in the sixth to put the Giants ahead for good.
But it was mostly Tejada, and maybe it was fitting that he finally came through for San Francisco on an anniversary of Bob Marley ("Redemption Song," anyone? No? Okay, maybe not).
Whatever, he got off the snide and if he can keep it rolling, maybe folks closely watching the team will start to forgive him for what really just might amount to a terrible, potentially-bad-luck-infused slump to start the season.
As Grant Brisbee of McCovey Chronicles correctly points out, despite Tejada's status as scapegoat probably isn't helped by his status as an outsider, either. If he were Brandon Belt, we'd all be sitting around trying to explain how it was okay that he wasn't smashing the ball.
So the lesson is this: if you come from the outside, make a bunch of money, and stink, small samples aren't going to apply to you for long. If you're a homegrown player with any sort of minor league pedigree, you'll get all sorts of chances, and you can wear small samples like some cloak of invulnerability. I don't think it'll ever change, but it's worth pointing out on a night when an overpaid veteran has a nice night to help his team win another one-run game. Tejada hit the ball hard all night, and he made a couple of nice plays at third. Good on him.
Julian of Splashing Pumpkins is a bit less optimistic, screencapping the Giants' fourth-inning rally (Aaron Rowand walk, Tejada single, Jonathan Sanchez walk, wild pitch) and making an example of it as something that shouldn't be counted on going forward.
Holding out optimism on Tejada is probably the smart thing, too. After all, he's going to get another start on Thursday, and it's entirely possible that Giants nation could turn on him between now and 10:00 PM PST if things don't go as well as they did on Wednesday.
That's not an indictment of Giants' fans, either. It's just the life of an overpaid, under-hitting, 30-something shortstop on a team with high expectations and not much offense.
The good news is, it's always easier when you're in first place.