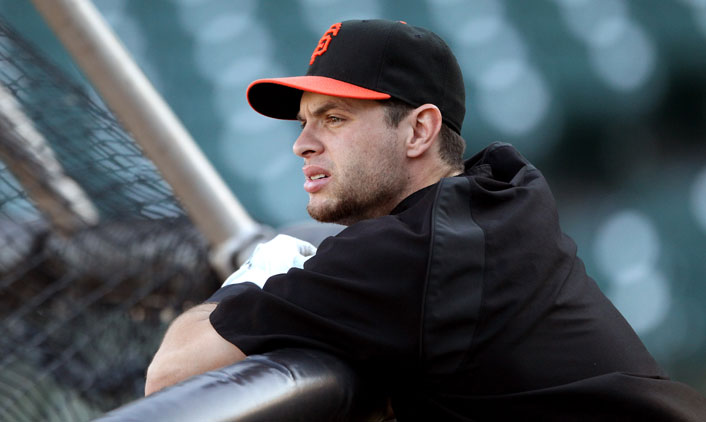 The Giants are inching closer and closer to Opening Day and therefore inching closer and closer to finalizing who will begin the season on the opening MLB roster.
It doesn't sound like, according to Andrew Baggarly of CSN Bay Area, that first baseman/outfielder/giraffe-at-large Brandon Belt will be one of the players that starts the season in San Francisco.
Baggarly reports that members of the Giants front office met on Monday evening and didn't come away feeling that Belt was ready to begin the year on the big-league roster.
"Giants brass met last night to discuss roster," Baggarly tweeted on Tuesday. "The mood: Brandon Belt is having a nice spring, but all not in agreement he's ready."
Now, this may be true. Baggarly followed up by noting that the Giants are still working on things.
"Just chatted with Hensley Meulens on Brandon Belt," Baggs tweeted. "Giants working w/him to stand taller and move back in the box. Still a work in progress."
It doesn't appear that way based on Belt's spring training stats, however. Belt's hitting .380/.429/.660 with three home runs, seven RBI and five walks in 17 games. His 11 strikeouts are a concern.
The more likely issue is that the Giants need depth up the middle with Freddie Sanchez hurt, and have plenty of depth at first base with Aubrey Huff and Buster Posey and in the outfield, where they would prefer not to play Belt.
And, as Baggarly points out, there "is little percolating on the trade front for" Mike Fontenot and Ryan Theriot.
So the case may simply be that the Giants want to keep their depth flexible without putting Belt into a position that could result in a yo-yo situation. Additionally, expectations placed on him will dip significantly if he doesn't start the year with the team.
Hopefully it pans out better than it did for Belt in 2011.