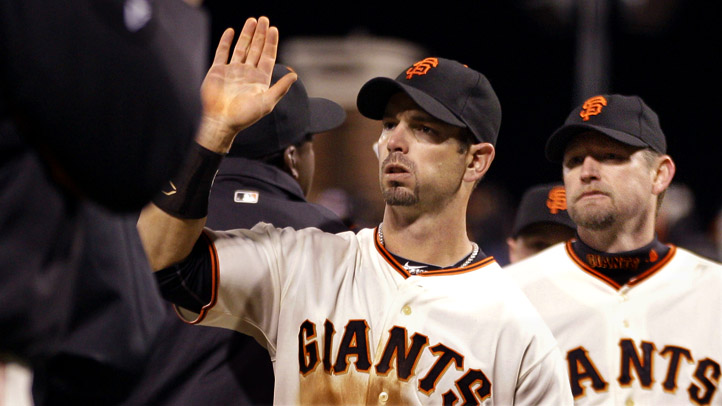 Brian Wilson is back. Alright, he's been back for some time, but you're a fool if you weren't concerned about his early-season performance. That wasn't the case on Tuesday night, though, as The Beard struck out the side in the top of the ninth to close out the Dodgers and give the Giants a 5-4 win.
Tim Lincecum wasn't as masterful as he'd been in his first two starts, but he still looked pretty sharp despite giving up three earned runs on six hits and one walk over 5.1 innings. A rocky fourth inning led to a 3-0 lead for L.A., and The Freak ran into more trouble in the sixth, but Guillermo Mota bailed him out.
Unfortunately, Jeremy Affeldt blew a potential win for Lincecum by coughing up a left-field moon shot to pinch-hitter Marcus Thames in the top of the seventh.
But Aaron Rowand, as he somehow continues to do, answered the bell and roped a triple, which led to him scoring on a wild patch during the next at-bat.
Sergio Romo and Wilson then did what they do, and shut out the Dodgers for the final two innings of the game, locking up a crucial victory and sending the series to the rubber match Wednesday.
It wasn't exactly a typical game you'd expect to see when Lincecum starts, though. The Giants, instead of leaning on their ace and just trying to scrap out a few runs, had to battle back from deficits twice.
They did so primarily behind the bat of Buster Posey, who went 3/4 with a run scored and two RBI to raise his season average to .300.
But other offensive contributions abounded as well: Rowand keeps streaking despite the fanbase's potential hatred for him, Brandon Belt showed some signs of life, and Pablo Sandoval just kept piling up stats in what appears to be a rejuvenation year for him.
Speaking of which, Matt Kemp went 2-for-2 with two walks, his fifth double of the season and another RBI -- Giants pitchers would just as soon see him in the batters' box as Giants hitters would Clayton Kershaw. Those two are primed for big years, and probably primed to torture this team all the way until the playoffs begin.
They've got at least one more showdown with Kemp in Wednesday's game, and with the first two games having gone as close to as expected before the series started, the series finale has all the makings of a tremendous early-season swing game in the NL West.