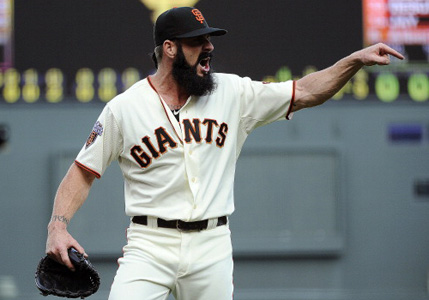 Game 1, 4/11, 7:15 PM PST: Madison Bumgarner (0-1, 9.00) vs. Clayton Kershaw (1-1, 2.08)
Pitching Edge: If you only watched Giants games this year, you probably think there's little chance San Francisco wins on Monday night. After all, Bumgarner struggled mightily in his season debut (he was chased in under three innings against the Padres his first time out).
Kershaw, meanwhile, dominated the Giants on Opening Day. But the interesting thing is that Kershaw didn't pitch as well against the Rockies (hope!).
"It was a frustrating night," Kershaw said of his night against Colorado. "They put some good swings on it. I'm not going to discredit them. They hit some balls hard, they hit some balls far."
Bumgarner, for as bad as his performance was statistically, wasn't that awful against San Diego (more hope!).
"He's going to be fine," manager Bruce Bochy said after the game. "The game didn't get out of hand. Give him credit."
The good news might end there, though. Bumgarner is actually worse at AT&T Park than he is on the road, which is kind of a bizarre split for a young pitcher on a popular team. So hand the edge to the Kershaw, by a pretty good stretch.
Opponent to Watch: There's not enough data to really break down any significant split against Bumgarner by individual batters, so instead, let's talk about Brian Wilson's oblique.
Because right now, it's a more-feared enemy than any member of the blue boys. Is he 100-percent back? It seems unlikely, given that he's saveless in two appearances, with a 33.75 ERA.
A strong series from him against the Dodgers would go a long way to restoring the faith of Giants fans in the bearded one.
Game 2, 4/12, 7:15 PM PST: Tim Lincecum (1-1, 0.64) vs. Chad Billingsley (1-1, 8.00)
Pitching Edge: The early 2011 returns for Lincecum should probably make him the Cy Young favorite in the NL right now. Were it not for some opening day gaffes, he'd be 2-0, and the ERA speaks for itself.
Billingsley hasn't yet justified his new contract -- he could certainly do so by going head-to-head with the Freak and keeping the Dodgers in contention here. Here's three interesting guys that could crush the ball against Bills, though: Nate Schierholtz, Miguel Tejada and Aaron Rowand.
Yeah. I know. But all three have really good (albeit really small) at-bat history against Billingsley. If they can help knock him around it'll be a) kind of surprising and b) a bad sign
Opponent to Watch: Andre Ethier's killed the ball on the road this year, batting .368/.478/.526 away from Dodger Stadium. He's only got two at bats against Bumgarner, and he's struggled to hit Jonathan Sanchez, but he's performed quite well against Lincecum.
Game 3, 4/13, 7:15 PM PST: Jonathan Sanchez (0-1, 2.53) vs. Ted Lilly (0-1, 6.00)
Pitching Edge: This is the definition of a "wild-card game," and that's fitting, since it seems logical that the Giants and Dodgers could come in with a 1-1 split.
Lilly's splits against the current Giants roster has to be terrifying for Dodgers fans, though. In just seven at bats, Buster Posey has a pair of home runs and a 1.857 OPS. Miguel Tejada has three taters against Lilly in 58 at bats and Aaron Rowand sports a 1.000+ OPS in 28 AB's against the Dodger left-hander.
Sanchez can be hit, and if the Dodgers are patient enough, they can take advantage of his weaknesses. But they'll need to score early and often in order to ensure Lilly's not already knocked out. It could be a rough day for him.
Opponent to watch: Matt Kemp is an early leader in the clubhouse for the MVP race in the National League. Kemp's been absolutely on fire this season, going hitless just once in his team's 10 games, posting a .438 batting average, smacking four doubles and leading the majors in steals with six.
"There are certain situations and certain pitchers you just can't go," Kemp said following his recent three-steal game. "Maybe they deliver the ball to the plate faster than another guy or use the slide step. Some guys pick over a lot. Maybe they think I'm going to get tired. I'm not going to get tired."
Kemp also happens to absolutely own Sanchez (11/29, .379/.438/.586), so it's okay to fear this guy.
Fearless Prediction: Giants take two out of three. It might be the easy way out -- Kershaw and Lincecum seem like good bets to win their games -- but it makes the most sense. I've also got this feeling that Miggy emerges as the "series MVP" with a big performance against the Dodgers.