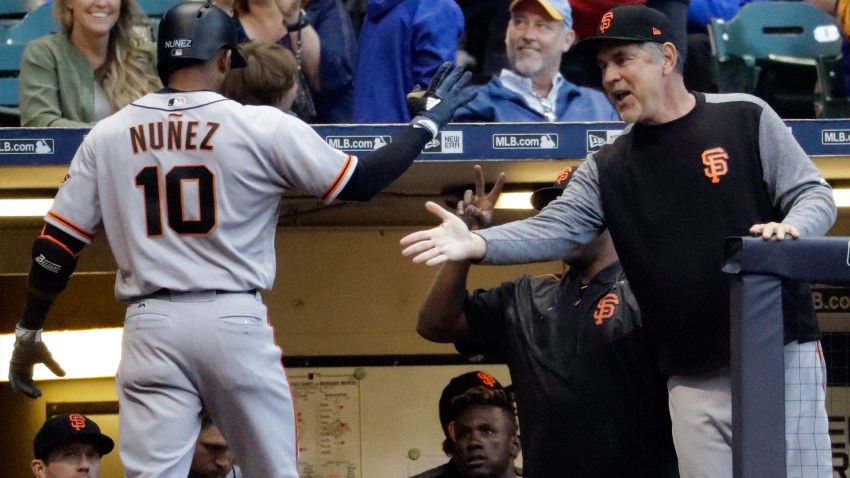 MILWAUKEE — Aaron Hill was the first Giant out on the field Monday, mostly because it was a familiar field. Hill, who started the 2016 season with the Brewers, chatted with several players before batting practice. Then he went out and beat his former team.
Hill's two-run pinch-hit double in the eighth finally gave Jeff Samardzija a lead on a masterful night. Samardzija was dominant into the bottom of that inning and he was rewarded, getting his second win of the season as the Giants pulled away from the Brewers 7-2 at Miller Park.
Here are five things to know from a quiet night for Bernie Brewer ...
--- Samardzija struck out 10, notching his second double-digit strikeout game of the season. Since the start of May, he has 59 strikeouts and one walk in seven starts.
--- Samardzija had no trouble with Eric Thames, one of the breakout stars of this season. The Bay Area native entered with 15 homers, but flied out in his first at-bat and struck out the next two times up. The second strikeout came on a perfect 96 mph fastball that nicked the corner.
--- The Brewers jumped out 2-0 in a very strange way. With runners on second and third and no outs, back-to-back hitters lofted fly balls to left. Orlando Calixte's first throw was strong and held Eric Sogard at third. His second throw airmailed everyone, and Sogard scored easily. Domingo Santana was awarded home when the umpires ruled that the ball went out of play when it skipped behind an advertisement board. The local writers said they couldn't remember that happening before.
--- Eduardo Nuñez tied it up with a solo no-doubter to left in the top of the fifth. Nuñez is batting .354 over his past 20 games and has reached safely in each and every one of them. He's Bruce Bochy's hottest bat right now, and as we'll mention often over the next seven weeks, he's improving his trade value with every passing day.
--- The Italian sausage won the sausage race at Miller Park, surging to the front of the pack two-thirds of the way through.
Copyright CSNBY - CSN BAY