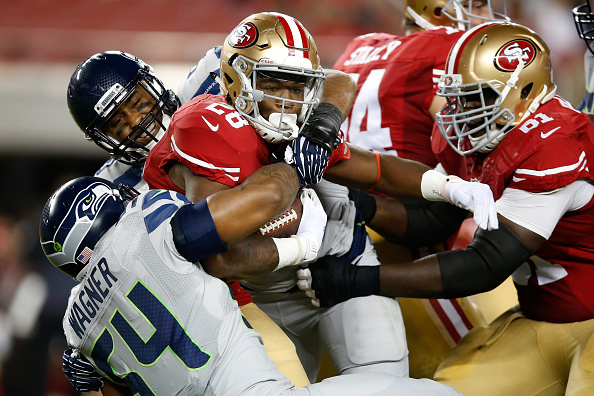 It's becoming a repeating storyline for the San Francisco 49ers in 2015: the offensive line is horrible.
In game after game, the Niners have trouble running the football and can't give quarterback Colin Kaepernick time to throw. San Francisco, at 2-5 and in last place in the NFC West, has tumbled from the ranks of the NFC elite to near the basement.
And, while there are numerous problems – the loss of key players, the departure of head coach Jim Harbaugh, the moves of the front office and some misses in recent drafts – the weak play of the offensive line may be the team's most dramatic and painful problem.
After a 20-3 loss to the Seahawks this past Thursday night in which Kaepernick was sacked six times and the running attack could pick up just 61 yards, former NFL offensive lineman Mark Schlereth, now an analyst for ESPN, went off on the Niners' offensive line.
"You've got to actually block people," said Schlereth. "You've got to control the line of scrimmage. I've been saying this since the start of the season. In 12 years of playing and 15 years of broadcasting, it's the worst I have ever seen, offensive line play consistently across this league. This was pathetic."
The faulty play of the line – particularly at center, right guard and right tackle – has allowed defenses to put tremendous pressure on Kaepernick and smother the offense. ESPN Stats & Information noted, going into this past weekend, that the 49ers owned three of the five worst team offensive performances this season in the NFL. In fewest yards produced in offense, the 49ers' 142 vs. the Seahawks was the worst. But 156 vs. the Cardinals was No. 3 and the 196 vs. the Packers was No. 5.
Jordan Devey at right guard and Erik Pears at right tackle have been consistently bad. Devey has been replaced at times by Andrew Tiller – who has graded out as better, according to Pro Football Focus. And yet the coaching staff continues to have Devey and Tiller split snaps at the position.
How bad has Devey been? Bill Barnwell of ESPN.com's Grantland tweeted during the Thursday night loss to Seattle that, "Devey made people believe Tom Brady was finished, so you can imagine what he does for Colin Kaepernick."
As Matt Barrows of the Sacramento Bee noted after the Seattle loss, Kaepernick now has been sacked 25 times and is on pace to be sacked more in 2015 than any 49ers quarterback in franchise history.
Wrote Barrows: "The team's playoff prospects appear to be falling along with their quarterback."
Unless coaches can make some changes to improve the line in time for Sunday's game against the Rams -- how possible is that at this stage of the season? -- it's likely to expect more of the same.