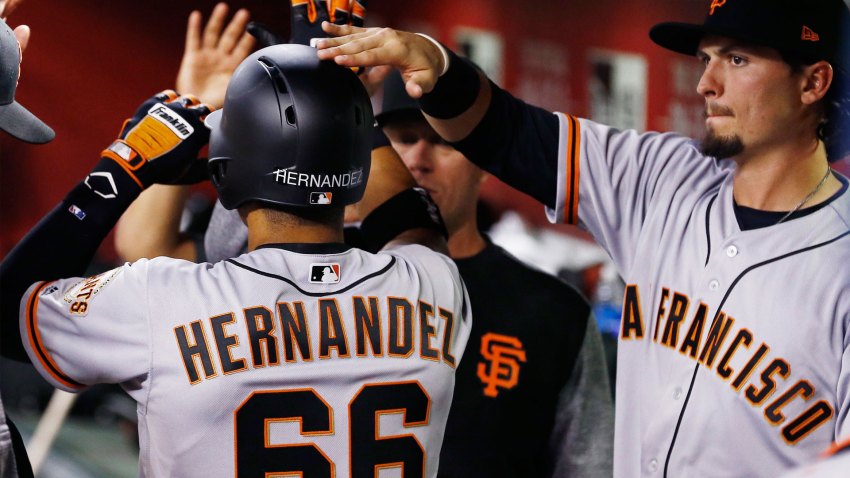 PHOENIX - This time, the lineup made sure the final frames wouldn't matter as much.
After blowing their season opener in the eighth and ninth, the Giants ran away from the Diamondbacks in the early going Tuesday, riding Johnny Cueto and a five-run fifth to an 8-4 win at Chase Field. The lineup, which left too man opportunities on the field Sunday, had 15 hits.
The Giants scored three runs off Patrick Corbin in the first three innings and responded right away when the Diamondbacks cut it to 3-2 in the bottom of the fourth.
Brandon Crawford opened the fifth by chopping a high 92 mph fastball into the right field seats for his first homer of the year. After Eduardo Nuñez reached with a nifty feet-first slide into first, Joe Panik singled and shortstop Chris Owings booted a double-play ball from Cueto. The Giants took advantage of the mistake, with Gorkys Hernandez smoking a two-run double and Brandon Belt hitting an RBI double off the wall.
At Chase Field you always need the extra runs, and the Diamondbacks chipped away in the fifth when Jake Lamb - who used to hammer Cueto's friend Santiago Casilla - hit a two-run bomb into the pool.
Cueto turned it over to the bullpen, which had 48 hours to stew over a demoralizing season-opening loss. The group responded. Cory Gearrin pitched a scoreless sixth, George Kontos had a dominant seventh, Derek Law pitched a perfect eighth, and Hunter Strickland closed it out in the ninth.
Starting pitching report: Cueto ran out of gas a bit near the end and it cost him. Lamb's two-run homer left Cueto with a line he doesn't post often: 5 innings, 6 hits, 4 earned.
Bullpen report: Kontos might as well be the second lefty in the bullpen, and if he keeps pitching like this, he might be the eighth-inning guy. Kontos entered with a runner on in the seventh and got David Peralta to fly out before striking out Paul Goldschmidt and Lamb. He has 10 strikeouts in his last four appearances, going back to spring training.
At the plate: Hernandez only started because Denard Span's left hip tightened up in the morning, and he drove in four runs. He drove in four runs in 26 appearances last season.
In the field: Don't hand that Gold Glove to Javy Baez quite yet. Joe Panik showed off his range with a diving stop to end the second inning. He also owes Belt a steak for an eighth-inning scoop.
Attendance: The Diamondbacks announced a crowd of 19,378 human beings after drawing 49,016 on opening day. Same drop every year here.
Up next: Matt Moore makes his first start since a brilliant turn during Game 4 of the NLDS. He'll face Taijuan Walker, the talented young right-hander picked up in the offseason.
Copyright CSNBY - CSN BAY