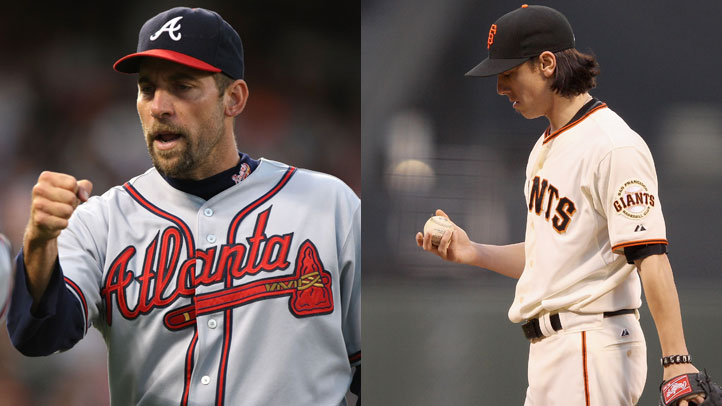 If you're talking baseball these days, there's a good chance you're talking about Tim Lincecum's struggles. It's a big story across the game and it becomes bigger because no one knows entirely sure why Timmy isn't pitching his best.
So it was logical for former Braves pitcher turned baseball analyst John Smoltz, appearing on Sirius XM, to get asked about Lincecum and why Timmy is struggling.
And Smoltz had some pretty interesting theories. He said, via Henry Schulman of the San Francisco Chronicle, that he thinks Timmy has "lost his edge," a la Tiger Woods on the golf course.
"I think once you start showing those cracks or once it starts showing a little more human factor, I mean, the edge is gone a little bit when you face a guy like this," Smoltz said. "He had an edge, much like Tiger. These elite pitchers have an edge when they get on the mound. The other team knows, 'Shoot, we're in trouble.' And right now you just want to label it as, OK, three rough starts, but I think all eyes are going to be on him to see, for the outside looking in, when does his fastball pop again, his split go down, his curveball, his changeup?"
Smoltz also said that three bad games -- not one, not two -- is kind of the magic number when it comes to hitters thinking that a pitcher's lost his edge.
"Those are the things, hitters will tell you, and I used to work on this theory: I never concerned myself with one or two bad games," Smoltz said. "Three in a row? Word's getting around. I always used to use three as the gauge to say, 'Ok, I gotta make some adjustments here as a pitcher.'"
Out of everything Smoltz said, though, our favorite part was the metaphor he made of Lincecum's mechanics to a helicopter, in that there are a lot of different parts that are constantly moving and, particularly with Lincecum, sometimes it's tough to find the same groove that he used to have.
"The things that have to go on in baseball is you constantly have to adjust and, mechanically, he's got a lot of moving parts," Smoltz said. "It's like a helicopter. It can get you to where you want to go and it can be very safe but there's a lot of things that can go wrong that give you a limited success rate of landing it. And I think that's the one thing going on right now. I don't know if it is physical. Could be, very well could be.
"But I know this: I mean, he knows how to pitch, he'll battle his way through it but I would say last year was not the same Lincecum that we've seen that has won two Cy Youngs and has dominated pitching."
It's clear that Lincecum isn't the same guy as when he won his Cy Youngs -- his velocity is way down compared to then (it's been decreasing each year, really). But it's also clear, as Smoltz noted too, that because Lincecum's mechanics are so odd relative to other pitchers, there's going to be more discussion when he struggles.