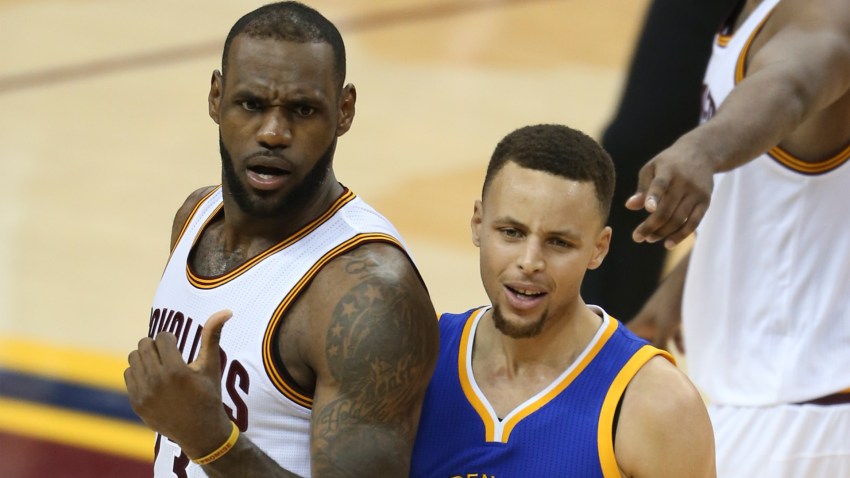 The Warriors wrap up a brief three-game road trip on Christmas Day in Cleveland, where they face the Cavaliers in the most anticipated NBA game of the season.
The Warriors (27-4) have won seven straight, while the Cavaliers (22-6) have won four in a row and nine of 10.
This will be Kevin Durant's introduction to the Warriors-Cavaliers rivalry, which dates back to the 2015 NBA Finals won by the Warriors. Cleveland legend LeBron James will be waiting, hoping to spoil Durant's initiation.
The Warriors are undefeated this season in road games in the Eastern Conference and have won their last 14 such games.
The Cavaliers have played on Christmas Day 13 times, and they've never lost (5-0) when the game was played in Cleveland.
BETTING LINE:
Warriors by 2.5
MATCHUP TO WATCH:
Kevin Durant vs. LeBron James. Perhaps the two best players in the league, and they are exceedingly familiar with each other. Durant is finesse and savvy, with occasional force. James is strength and smarts, with occasional finesse. Though the Warriors may have a deeper scoring arsenal than the Cavs, the winner of this matchup tilts the outcome toward his team.
INJURY REPORT:
Warriors: No injuries listed.
Cavaliers: G J.R. Smith (R thumb surgery) and C Chris Andersen (R ACL tear) are listed as out. G Mo Williams (L knee surgery) is not with the team.
ROSTER NOTE:
Warriors C Damian Jones was recalled from D-League Santa Cruz and will join the team in Cleveland.
LAST 10:
Warriors: 9-1. Cavaliers: 9-1.
SERIES HISTORY:
The Warriors last season swept both games and have won nine of the last 11 regular-season meetings. The teams have met in the past two NBA Finals, with the Warriors winning in six games in 2015 and the Cavaliers in seven in 2016.
THREE THINGS TO WATCH:
Embrace the moment. As the marquee game on the NBA's marquee regular-season day, the Warriors and Cavaliers may need to shed nerves in the opening minutes. Whichever team settles into a groove first will gain a decided advantage. The Warriors relish the notion of silencing an opponent's arena.
Bombs from beyond. The Cavaliers rank second in 3-point attempts and percentage, the Warriors fifth in both categories. Four Cavs are shooting above 40 percent, led by forward Channing Frye, whose 45.1 ranks sixth. Surprisingly Cavs PG Kyrie Irving is shooting triples at a higher percentage than Warriors PG Stephen Curry. It'll be a legitimate test for the Warriors, who lead the league in defending the trey. Cleveland ranks 13th.
Attack the rack, too. The weakest element of Cleveland's defense is the interior, where the Cavs allow more points than all but two teams. There will be openings for Durant. Ian Clark and Curry will have opportunities to penetrate and Shaun Livingston should have room for his midrange jumper.
Copyright CSNBY - CSN BAY