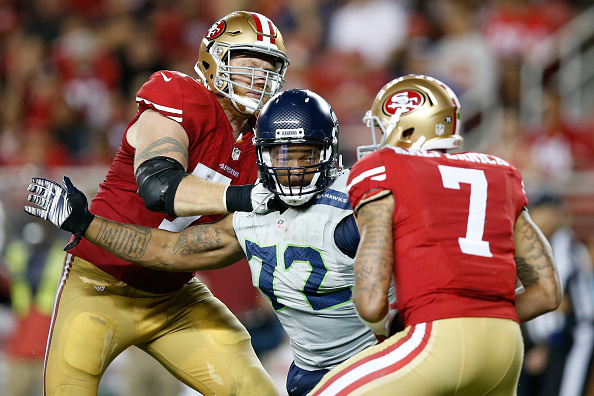 Once, it was a rivalry. The 49ers and Seahawks battled for supremacy of the NFC West. It was Pete Carroll and Russell Wilson and Marshawn Lynch on one side, and Jim Harbaugh, Colin Kaepernick and Frank Gore on the other.
But after another lopsided loss to the Seahawks Thursday night – on their home turf at Levi's Stadium, no less – it's plain to everyone that the rivalry is long gone (as are some of the 49ers' key people). The 49ers simply are the Seahawks' punching bag now.
Even a Seattle team that was struggling – coming into the game at 2-4 – feasted on the 49ers.
Including the 20-3 loss to Seattle Thursday, the Niners now have lost six of the past seven meetings. That includes the NFC Championship Game in January of 2014 and a Thanksgiving night game from last season in which Seahawks cornerback Richard Sherman ate a turkey leg on the field at Levi's after a Seattle win.
It was after that game that 49ers CEO Jed York apologized on Twitter that, "This performance wasn't acceptable. I apologize for that." This time, as the Associated Press noted, it was former 49ers special teams ace Kassim Osgood tweeting, "Something ain't right in SF."
In their past three losses to the Seahawks, the 49ers have been outscored 56-13.
Kaepernick, who was sacked six times Thursday night, now is 1-6 vs. Seattle. In those seven games he has two TD passes vs. seven interceptions and has an awful quarterback rating of 55.9. While Kaepernick can at times be brilliant – he was very good the previous week in a win over Baltimore – he is at his worst against Seattle.
"They played better than us tonight," Kaepernick told reporters. "That's the bottom line."
Added tight end Vernon Davis: "We've had our struggles with Seattle. It's hard to get by this. It is. I'm not going to stand here and lie. It is Seattle and we haven't really had much success against them this past couple years."
At 2-5 now, the 49ers are last in the NFC West. Their hopes of a winning season – much less reaching the postseason – are slim.
Their next opportunity will be Sunday, Nov. 1, against the Rams in St. Louis.