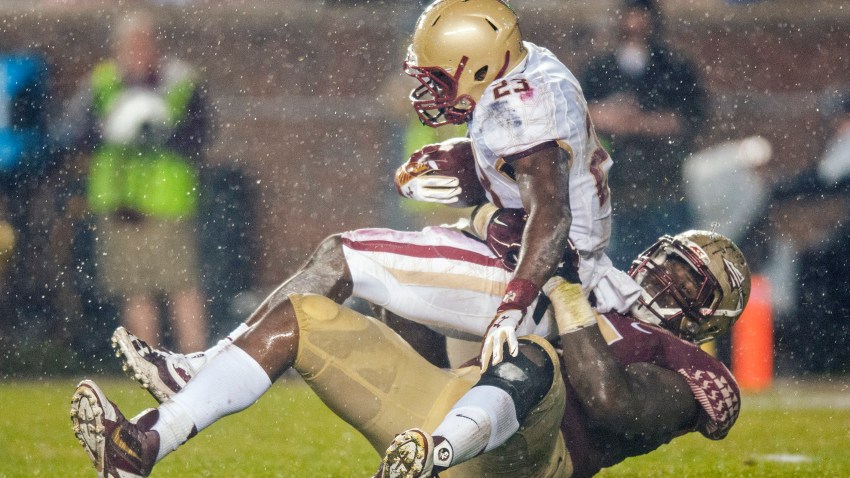 At Florida State, defensive end Mario Edwards Jr. had problems with his weight and never turned into the elite pass rusher some believed he could be.
So, when the Raiders made him their second pick in this recent NFL draft, taking him with the 35th overall choice, some analysts questioned the choice of Raiders general manager Reggie McKenzie. ESPN analyst Mel Kiper Jr. called Edwards "a bit of a reach" at the top of the second round and Chris Burke of Sports Illustrated noted that NFL scouts like Edwards' physical tools but were scared by his inconsistent play. Greg Cosell of NFL Films said he saw "no explosion" from Edwards as a senior.
But Edwards, who lost a lot of weight after the Seminoles' season – dropping to 277 from about 310-315 during his final college season – could turn out to be a terrific pick. He's expected to compete for a job at defensive end in the team's 4-3 scheme.
During his junior season at Florida State when the Seminoles won the national title and he was in better shape, Edwards was a force on the defensive line. His athleticism – he can do back flips -- strong hands and long arms allowed him to dominate some offensive tackles, including Auburn's Greg Robinson in the national championship game. Robinson was the second overall pick of the 2014 NFL draft, by the St. Louis Rams. In that game, Edwards had a sack and six tackles, including three for loss.
As a junior, Edwards had 3½ sacks and 28 total tackles. As a senior he had three sacks and 44 total tackles.
Now some are penciling in Edwards as being perhaps a better pro than he was a collegiate player. Charles Davis of NFL.com this week selected Edwards to his projected 2015 NFL All-Rookie team, along with Oakland's No. 1 selection, wide receiver Amari Cooper.
"He'll be plenty motivated to keep his weight down so he doesn't have to move inside to tackle, and that alone gives him a chance to be a high-impact player right away," wrote Davis.
Edwards knew there was a problem with his weight and addressed the issue following his senior season.
"In order for me to be great, I've got to take care of my body," he said before the draft. "The 310 (previous weight), it's a closed chapter."
Raiders head coach Jack Del Rio also believes Edwards will be a different player than he was his final year at Florida State.
"We see a supremely talented guy that obviously had a little case of senioritis," Del Rio told Bay Area reporters this week. "I think that goes away when you come into the league and you understand the demands and the challenges that are in front of you. But the guy does have a lot of talent. It's up to us to make sure that we bring the type of discipline that he needs to his game. Part of that is keeping his weight in line. … That shouldn't be an issue. It's a profession now. He has a lot of talent and we look forward to working with him."