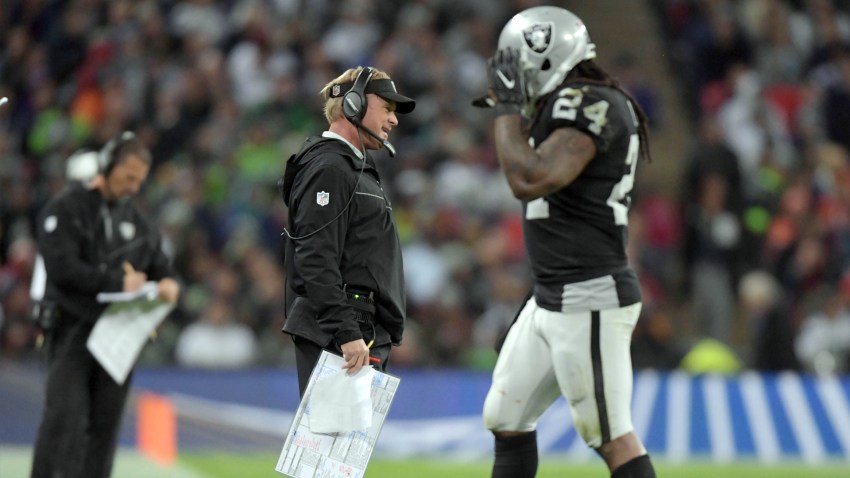 INDIANAPOLIS – Marshawn Lynch was the best Raiders skill player through last season's first six weeks. The veteran running back found great form, punishing defenders with his aggressive, never-say-die rushing style.
A groin injury got him in London, while playing his former team. He was moved to injured reserve after that Seahawks game and never returned.
There's some question whether he ever will. The enigmatic running back could step back into retirement where he spent 2016 before joining his hometown Raiders.
Head coach Jon Gruden would like Lynch back but isn't sure if he's coming. While Lynch's desire to continue playing will factor into his decision, Gruden suggested his health is also a major consideration returning from groin surgery.
"The coming weeks will give us a better indication about where he is physically," Gruden said here at the NFL Scouting Combine. "That's the No. 1 agenda. We have to find out how is responding to the injury. We'll know something here in a couple weeks."
Gruden didn't put on a deadline on Lynch's decision, though sooner's preferred over later so the Raiders can plan for next season.
Lynch would be the feature back if he's back. He showed an ability to run well despite advanced age, and there's little doubt he could do so again if fully healthy.
Doug Martin filled in well for Lynch last season, and could be an easy option to continue that role despite him headed for unrestricted free agency.
He's up there in years, so the Raiders have to get younger at the position no matter what. Chris Warren III's an in-house option, a physical rusher who spent his first professional season on injured reserve after a preseason knee injury.
"Chris Warren is a big strong kid, man. I remember scouting him when he was at Texas," Raiders general manager Mike Mayock said. "He was a tight end, then he became a tailback. What do you do with him? How do you play him? I think he's challenging.
"I think what he did in training camp last year was he came in and he knocked a linebacker from Detroit on his back in one of the practices. He was consistently physical until he got hurt. He's a guy we can't wait to see this summer."
Jalen Richard's a restricted free agent, but he'll be retained and continue his role as a third-down back and earlier-down option. Gruden loves his versatility as a receiver, rusher and pass protector.
Having those options shouldn't prevent the Raiders from drafting a running back with one of their 10 selections. There are plenty of solid options here, including Alabama's Josh Jacobs. He's another do-it-all back, maybe smaller in stature but fully capable of being part of a solid rushing stable. Securing Jacobs might require a too-high draft pick, but there's quality throughout the draft the Raiders should keep an eye on.
And, while it seems remote, we can't discount the possibility Gruden spends big on former Pittsburgh star Le'Veon Bell. Gruden loves veterans, and the patient, versatile back would thrive in Gruden's system as a runner and receiver.
Lynch's decision will weigh into the running back outlook.
The expected return to Oakland Coliseum in 2019 – that deal's virtually done – would increase odds Lynch will return, there's zero chance he comes to Las Vegas with the Raiders in 2020.
No matter w as the look toward a future without Marshawn in this coming season or the next.
Copyright CSNBY - CSN BAY