U.S. gymnast Simone Biles pulls out her namesake move, distance runners demonstrate Olympic selflessness and an Irish boxer stomps around the ring.
In case you missed them, memorable moments from Day 11 at the Rio Games.
"The Biles" Wins Another Gold
U.S. gymnast Simone Biles, the all-around champion of the Rio Games, tumbled her way to a fourth Olympic gold medal on Tuesday by winning the floor exercise.
Biles' routine featured her signature move, known as the Biles, a double layout with a half twist out.
Her success came a day after she faltered on the balance beam, dropping to bronze and losing a chance at a record five golds at a single Olympics. She had to grab the balance beam to steady herself.
Coming in second in Tuesday's floor exercise was Biles' teammate Aly Raisman, who won the silver medal with a routine that included a double layout. Britain's Amy Tinkler took the bronze.
Biles is the fifth woman to win four gold medals in gymnastics at a single Olympic Games.
Perfect No More
Kerri Walsh Jennings entered the the United States' semifinal match against Brazil in beach volleyball with an unblemished Olympic record: 26 wins, zero losses, three gold medals.
She's not going to get gold number four.
In front of a raucous home crowd, Brazil's Agatha and Barbara dispatched Walsh Jennings and her partner, April Ross, in straight sets to advance to the gold medal match. The American pair will now face another Brazilian duo, Larissa and Talita, in Wednesday's bronze medal match.
For three-plus Olympics, Walsh Jennings was as dominant as possible. She'd played 54 Olympic sets and had only lost two of them. She played two sets on Tuesday, and lost both.
The loss wasn't that much of a shock: Agatha and Barbara entered the Olympics ranked No. 2 in the world, one spot ahead of Walsh Jennings and Ross.
And don't think the Americans have the bronze medal in the bag: Brazilians Larissa and Talita, who were upset by Germany on Tuesday, entered the tournament as the top-ranked team in the world.
The Best of the Olympic Spirit
The Olympic spirt was on full display during a heat of the women's 5,000 meter Monday after U.S. distance runner Abbey D'Agostino clipped New Zealand's Nikki Hamblin from behind when Hamblin slowed to avoid another runner. Both women fell to the track.
D'Agostino got up but then waited for Hamblin, who was still lying on the ground. They tried to continue but D'Agostino was hurt and in pain and told Hamblin to go on without her. Both finished with D'Agostino limping across the line.
Afterward, according to The Los Angeles Times, Hamblin told reporters: "I went down, and I was like, 'What's happening? Why am I on the ground?' Then suddenly, there's this hand on my shoulder [and D'Agostino saying], 'Get up, get up, we have to finish this.' And I'm like, 'Yup, yup, you're right. This is the Olympic Games. We have to finish this.'
"I'm so grateful for Abbey for doing that for me," she said. "That girl is the Olympic spirit right there. I've never met her before. I've never met this girl before, and isn't that just so amazing? Regardless of the race and the result on the board, that's a moment that you're never, ever going to forget for the rest of your life, that girl shaking my shoulder like, 'Come on, get up.'"
[NATL] Day 11: Highlights From the Rio Olympics
After an appeal both women were advanced to the final on Friday.
Love Lingers in Rio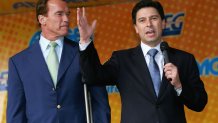 Track and field athlete Will Claye had more to celebrate on Tuesday than winning his second straight silver medal in the triple jump.
Moments after winning his medal, the 25-year-old proposed to his girlfriend Queen Harrison, a former Olympic sprinter.
American Christian Taylor took home gold in the event.
Claye and Harrison are only the most recent couple to become engaged at the Rio Games. Two days earlier Chinese diver He Zi was proposed to while on the podium for winning a silver medal. Last week Brazilian rugby player Isadora Cerullo also became engaged to her girlfriend, who was working at the stadium. British race walker Tom Bosworth also proposed to his boyfriend yesterday in Rio.
Boxing Loss Prompts Tirade
Irish boxer Michael Conlan launched into a rant when he lost a unanimous decision in a bantamweight bout that cost him a chance at a medal.
Russia's Vladimir Nikitin won the decision.
The 24-year-old Conlan, who won a bronze in the 2012 London Games, stormed around the ring, made an obscene gesture toward the judges and gave two thumbs down as fans booed.
Afterward he accused the judges of robbing him of a victory, directed another obscenity at the International Boxing Association and vowed never to fight in an amateur competition again. In a tweet he implied the Russians had paid for a victory.
His was not the only disputed decision. Another Russian, heavyweight Evgeny Tishchenko, was booed when he won gold.
Boxing News reported that both bouts were among those being brought before a review panel. Judges are evaluated throughout the Games however there is no mechanism for appeals from teams to overturn results.
Another Diver Belly Flops
Malaysian diver Ahmad Amsyar Azman is the latest addition to the growing list of Olympic flops, scoring a low 9.75 after landing in a belly flop during the 3-meter springboard preliminary.
The 23-year-old had seemed set to advance to the semi-finals after his first five dives, taking a comfortable 12th place, of which the top 18 qualified to progress.
But losing his balance on his sixth dive, Azman did not qualify for the next event.
Azman joins the ranks of reigning Russian Olympic diving champion Ilia Zakharov and Russian diver Nadezhda Bazhina.
Zakharov lost the chance to defend his champion title when he clipped the board in his first preliminary dive, landing in a large splash-inducing belly flop.
Bazhina's Olympic dreams ended when she back-flopped into the pool last week, scoring a rare zero points.
Bolt Bolts
Usain Bolt is already the first man to win three consecutive Olympic gold medals in the 100 meter.
Now he's going for the same distinction in the 200 meters.
On Tuesday, he finished his first round heat in 20.28 seconds. Justin Gatlin and Andre De Grasse, with whom he shared the 100-meter podium, also advanced.
Youngest U.S. Hurdler Out
Sydney McLaughlin, the youngest American athlete to compete in track and field events at the Olympics since 1972, failed to make the final for the 400 meter hurdles.
McLaughlin, who turned 17 just over a week ago, finished fifth in the semifinals on Tuesday. She made her Olympic debut in her qualifying heat on Monday.