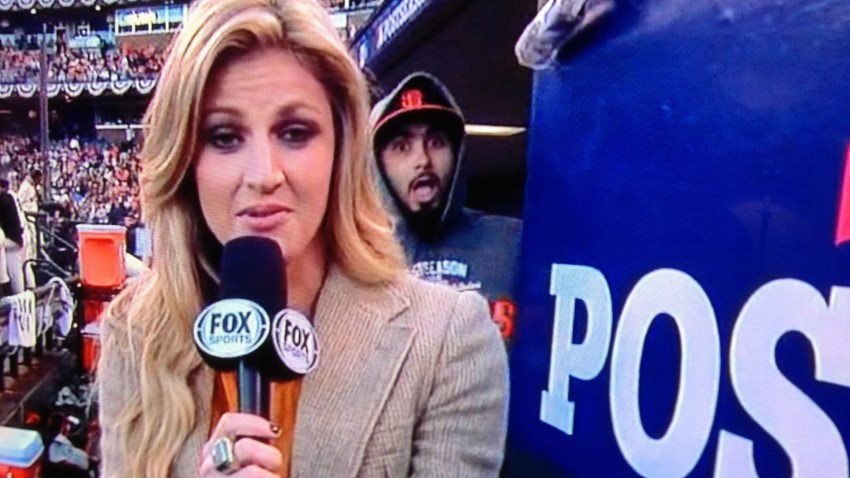 Giants relief pitcher Sergio Romo has become a instant national celebrity now that the country is locked in on the World Series between the Giants and the TIgers.
Everyone on Fox, the MLB network, and Twitter seem to be talking about him.
He is also scoring the big interviews before, during and after the games.
One of the things that has caught their attention is something known as a photo-bomb, now refered to as a Romo-bomb.
Romo has found a way to get his face on TV behind a newsmaker during nearly every game of the post season. He did not make a Robo-bomb appearance behind the scenes Saturday night, but did get the save throwing for the final three outs of Game 3.
Even though the post-season is extremely serious, that isn't stopping Romo from showing his goofy side to a national audience.
The San Francisco Giants turned the photo-bombing back on Romo before the World Series and held a contest to see who could come up with a meme of Romo.
The winner got World Series tickets.
The winning photo to the right is titled "Singing in the Rain."
During Game 1 of the NLCS, he got his hairy mug on screen during the dugout sideline report by Erin Andrews. He did the same thing during a NLDS game on TNT.
He did it again during a dugout interview with Matt Cain in Game 2.
You can see that video below:
We have seen him do this kind of goof as far back as 2010 when appeared to float behind Amy G during a similar sideline report.
Romo appears to have a "never saying no" philosophy, volunteering for everything from taking part in the throwing out of the first pitch nearly every game to shooting promotional videos for his team.
Here's his fist bump video with Keenan Cahill.

The Giants used his willingness and love of the camera for a promotional video for the Giants giveaway days.