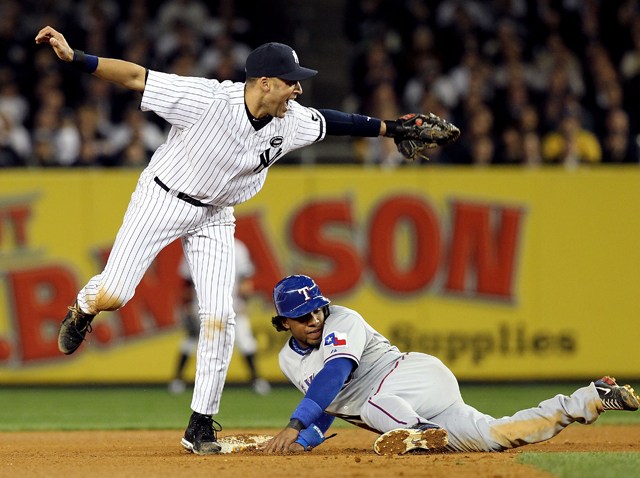 When Brian Cashman responded to Derek Jeter and company claiming that the Yankees were engaged in baffling negotiations by telling him to test the market, it seemed like Cashman was risking losing face in the public relations side of the contract battle.
That's become an increasingly large part of this exercise since we don't seem to be heading toward anything but a renewal of vows. The final contract numbers will tell one story, but the one that will be trumpeted in much bigger print is going to be about which side won the hearts and minds of the public. It might be insignificant in the long run, but it's going to be a talking point and Cashman's gruffness appeared to be working against him.
Like they say about the weather in many different places, however, if you wait five minutes things change completely.
Friday morning brings Bill Madden of the Daily News reporting just what exactly Jeter's side is looking for in these negotiations. For all of the talk, that's been shrouded in some secrecy beyond vague notions of four or five years while the Yankees side of things has been well reported. Per Madden sources close to the shortstop's camp, Jeter's starting point in the process is a six-year, $150 million contract that can come down in years, but not in the average annual value of $25 million.
Pot, meet kettle. Baffling doesn't begin to describe the notion of such a contract. There's no justification for it based on on-field production, obviously, and there are no past slights to make up for with a big balloon payment. Jeter's camp wants everyone to forget it, but the Yankees have already paid him more than $200 million over the years. That's hardly in line with their argument that the Yankees don't want to treat Jeter with respect.
The only justification, a word one should use loosely, for such a request would be the Alex Rodriguez contract. We've discussed how A-Rod has no place in these discussions before, but that was mostly about the way the media uses him as a straw man. This is different, this is Jeter being petty, jealous and greedy.
Those three things fly directly in the face of the image and brand he's cultivated over the last 15 years. They aren't the personality traits of a man who has long argued that winning mattered more than anything else and they aren't the traits of the selfless captain that he's been selling to the fans. It's delusional and it's impossible to believe that anyone with even a slightly reasonable view of the process will see it any other way.
Cashman presumably had this information when he bristled at being accused of dirty dealings, which makes it much easier to understand why he told Jeter to pound sand. If Jeter keeps asking for ridiculous things, he'll have more people on his side than anyone could have imagined.
Josh Alper is a writer living in New York City and is a contributor to FanHouse.com and ProFootballTalk.com in addition to his duties for NBCNewYork.com. You can follow him on Twitter.
Copyright FREEL - NBC Local Media