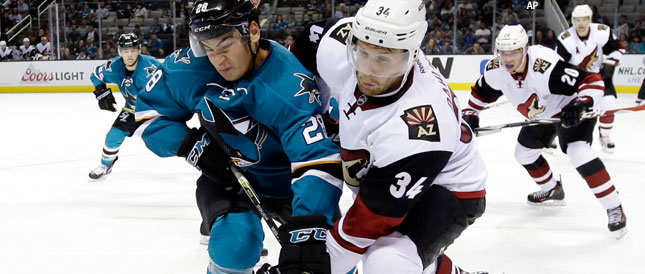 OTTAWA – The Sharks-Senators game on Wednesday had a little bit of everything, and ended with a second shootout victory on the road for San Jose in as many nights, 4-3. Let's sift through the results and postgame reaction for the day after's three takeaways…
1 – Concern for Couture
As he has done lately whenever a Sharks player is unable to finish a game, coach Pete DeBoer offered virtually nothing in regards to that player's status moving forward, although it was later learned that Logan Couture – who was shaken up after a cross-check to the head from Mike Hoffman – at least boarded the team's postgame flight to Montreal. That's a good sign.
With Couture's status up in the air, and Joonas Donskoi missing Wednesday's game at least partially because he's dealing with some bumps and bruises, it opens the door for the Sharks to recall at least one forward from the Barracuda. The Sharks, in fact, were leaning towards recalling a forward even before Couture went down, according to a source.
That means that Timo Meier, a former first round pick that has been dominating the AHL lately and a player that the fan base seems excited to see make his NHL debut (if social media is any indication), is likely to be joining the team before the end of the road trip. Meier was set to be recalled earlier this month, but came down with the flu.
Expect the Sharks to reassign Mirco Mueller, so long as all six defensemen got out Wednesday's game without any injuries, to make room for Meier and perhaps another forward.
2 – Vlasic in trouble?
Hoffman will almost certainly be hearing from the NHL's Department of Player Safety for getting Couture up high with his stick. But what about Marc-Edouard Vlasic? It was tough to get a sense of what happened on replays, but it certainly seemed like he was, at the very least, a little too careless with his stick on Erik Karlsson. I don't see a suspension there, but Vlasic could be in line for at least a fine.
Regardless, the game was a nasty affair, as the two teams were playing each other for the second time in eight days. They combined for 71 penalty minutes.
"That's the way it is sometimes," Joe Thornton said. "Emotions get high, and hopefully Cooch is OK, I haven't seen him yet. It's an emotional game, what can I say?"
3 – Labanc cashes in
When asked about choosing Labanc for the fourth round of the shootout, DeBoer offered a piece of information I hadn't heard before – it's actually assistant coach Johan Hedberg who chooses the team's shooters. So, credit Hedberg with an assist for getting that extra point in the standings against the Sens.
Labanc described his thought process before converting on Mike Condon, in what was the rookie's first-ever attempt.
"He seemed really under control, so you kind of wanted to get him off his game a little bit and just kind of open something up – like, fake a shot or something. … He's just a big goalie, so you have to find other ways to score on him," Labanc said.
Martin Jones, on the other end, is now seven-for-seven in stopping shootout attempts this season. He's 7-2 overall in shootouts in his career, stopping 31 of 36 attempts for an incredible .861 save percentage.
Copyright CSNBY - CSN BAY