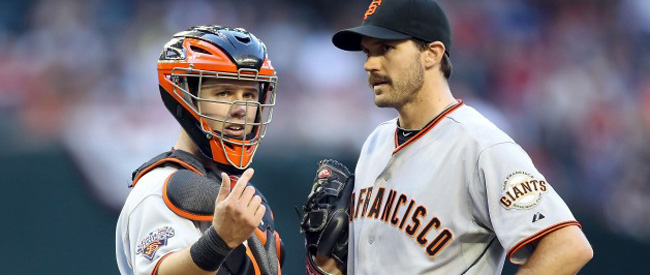 Giants fans might quickly forget that Barry Zito's missing from the starting rotation -- it's not like he was pitching that well before his foot injury.
But if Ryan Vogelsong comes on in the fifth starter role and pitches up to snuff with his career numbers, well, people will start wishing for the halcyon days of Zito sooner than they ever though.
Fortunately, there's a chance his fate might be known sooner rather than later, as he's in North Carolina visiting noted foot specialist Dr. Robert Anderson.
"I'm good," Zito said recently. "That's the most important part of staying focused. You can't let the air out. When you start taking a break mentally, you don't know when it will start up again."
Anderson, out of Charlotte, actually serves as the team doctor for the Carolina Panthers, and you'll often see NFL prospects with foot issues traveling to Charlotte in order to see him. Which is kind of awkward, since people then believe the Panthers are interested in them.
But I digress -- one of the key people that Anderson's checked out in recent years is Jonathan Stewart, the running back recently drafted by Carolina, who happened to run for over 1,000 yards quickly after visiting Anderson and being drafted by the Panthers.
The point there isn't, of course, that Barry Zito is going to become some hulking beast of a running back. That's probably the least likely thing in the history of the entire world, in fact.
Rather, the point is that if anyone can a) figure out what Zito's got left on the foot and b) fix the foot in time to get Zito back into the rotation and pitching well, Anderson can do it.
Does getting Zito back actually make the Giants better? Well, yes. Yes it does.
He's obviously not elite anymore, and he struggled mightily after his car accident and is now on the disabled list, but he provides some solid depth to the rotation, and has still shown recent flashes of brilliance that will benefit this team down the stretch.
If he's healthy.