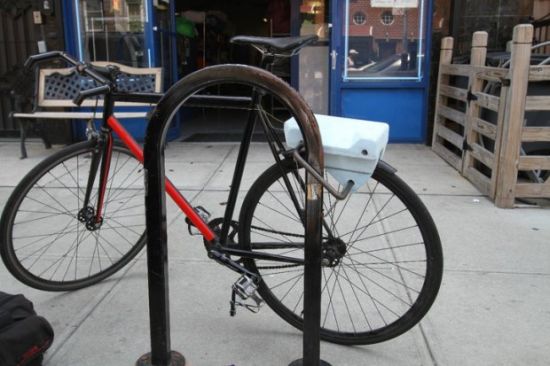 Bike sharing programs have proven popular in other countries, but the high cost of building an infrastructure has made it tough to do in US cities. A new iPod and GPS powered system looks to change that by requiring no special fixed bike stands.
The SoBi (Social Bicycles) program uses bikes with a special GPS/bike lock unit fitted above the rear wheel. The GPS tracking system allows members to locate available bikes using an app on their iPhone, and then unlock the lock once they are at the bike. The beauty of this system is that the bikes can be locked to any available bike rack, and don't need to be dropped off at special racks run by the bike share program. The bike's care becomes your responsibility during the time it's signed out to you, although I'm not sure how they will be able to determine just when any damage might have happened.
The people starting SoBi says the lack of special racks makes their startup costs much lower than with most bike share systems, at about $1000 per bike. Expect SoBi to get off the ground this fall.
Copyright DVICE - DVICE