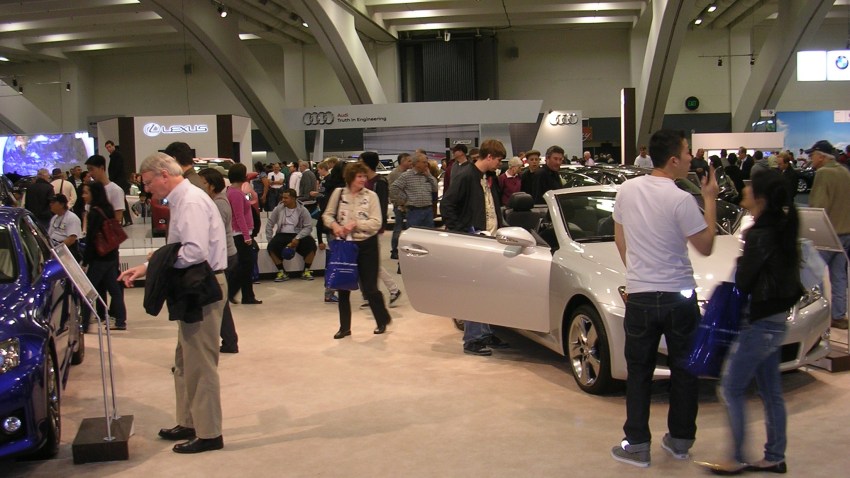 Hundreds of thousands of people will be flooding SoMa starting this weekend to take in the annual San Francisco Auto Show.
The show, held at the Moscone Convention Center, features 600 vehicles from 35 manufacturers. It opens Saturday and runs through November 28.
It boasts at being the largest such show in the region and attracts 350,000 people over its nine day run.
If you going, here's a pdf map of the layout so you can find the models you are looking for quickly.
Here's the shows highlights courtesy of the PR folks:
Exotic Sports Cars: Among the cars expected are: Aston Martin DBS, DB9, Rapide and Vantage Convertible; Audi R8 Spyder; Bentley Continental 80-11 and Supersports; BMW; Chevrolet Camaro, Corvette Grand Sport, Stingray and ZR1; Dodge Challenger and Charger; Ford Mustang GT Coupe and V6 Convertible; Jaguar XF and XJ; Lamborghini Murcielago Superleggera and Gallardo Spyder; Lotus Evora, Elise and Exige and Porsche
2011 Model cars, SUV's, trucks and vans: Among the manufacturers expected to display vehicles are: Acura; Aston Martin; Audi; Bentley; BMW; Buick; Cadillac; Chevrolet; Chrysler; Dodge; Ford; Fiat; GMC; Honda; Hyundai; Infiniti; Jaguar; Jeep; Kia; Lamborghini; Land Rover; Lexus; Lincoln; Lotus; Mazda; Mini; Nissan, Saab; Scion; Subaru; Porsche; Ram; Rolls Royce; Toyota; Volkswagen; Volvo
North American Car and Truck of the Year nominees: Car of the year nominees expected are: Audi A8, Buick Regal, Chevrolet Cruze, Chevrolet Volt, Ford Fiesta, Hyundai Sonata 2.0T/Hybrid, Infiniti M37/56, Jaguar XJ, Kia Optima, Mazda Mazda2, Nissan Juke, Nissan Leaf, Volkswagen Jetta and the Volvo S60.
Alternative fuel and hybrid vehicles: Among the vehicles expected are: Cadillac Escalade Hybrid; Chevrolet Volt; Ford Escape Hybrid 4X4 and Fusion Hybrid; GMC Yukon Denaili Hybrid; Honda Civic Hybrid, CR-Z Hybrid and Insight; Hyundai Sonata Hybrid; Lexus GS 450h, HS 250h, LS 600h and RX 450h; Lincoln MKZ Hybrid; Nissan LEAF and a Cut-in-half demonstration model of the Nissan XTrail FCV (fuel cell vehicle), Toyota Camry Hybrid, Highlander Hybrid, Highlander Fuel Cell Hybrid, Prius and Plug-In- Prius and; Volkswagen Touareg Hybrid