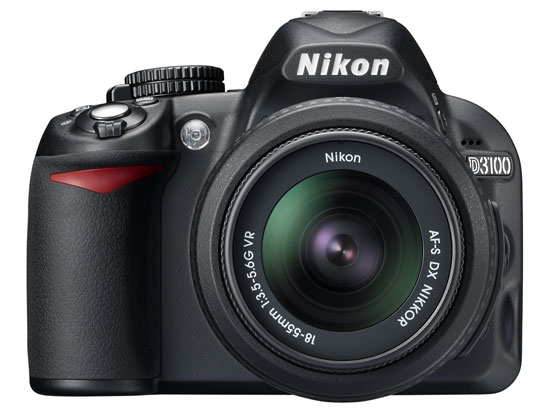 HD video shooting came to DSLR cameras a couple of years ago, but that feature has been improving and appearing in cameras at lower and lower price points. Case in point: the Nikon D3100, which is the first DSLR to be able to auto-focus while shooting 1080p video. And it costs just $700. Wow.
At that price, the D3100 is $200 cheaper than the Canon T2i, which also shoots 1080p — though the D3100 can only capture at 24 frames per second to the T2i's 30 (the Nikon can do 30 fps at 720p). The Nikon's Expeed 2 image processor gives it an advantage, however: continuous auto focus. It used to be you needed fancy manual aids to keep a subject in focus on a camera like this, but the Nikon is the first to be able to constantly adjust the optics to ensure your intended target stays in focus. That could lead to unwanted noise, but it's still a pretty cool trick.
The camera also features a Guide Mode, which includes mini tutorials on getting the most out of your shots, displayed right on the LCD — not a bad idea for an entry-level camera.
Rounding out the specs: the CMOS sensor maxes out at 14.2 megapixels, there's an 11-point autofocus system, ISO can go as high as 12,800 (presumably for taking pictures from within a black hole), and the face-detection tech can discern up to 35 different faces.
We hope the D3100 is a sign of things to come, with 1080p capture and video auto focus soon becoming expected features in any DSLR. If they can be built into an entry-level camera, why not?
Via Nikon
Copyright DVICE - DVICE