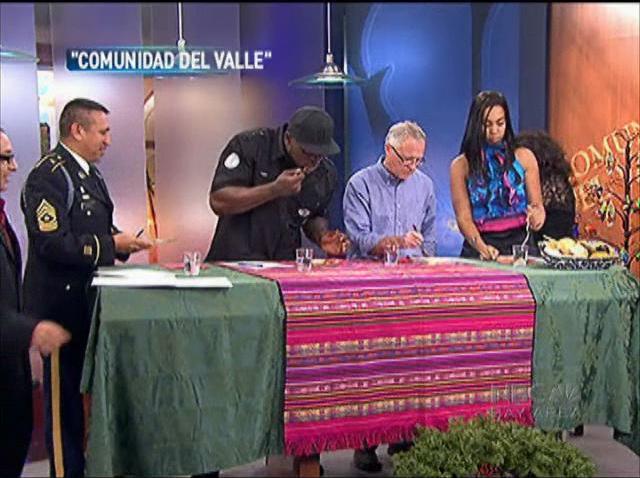 Perhaps my colleague, Raj Mathai, said it best during Thursday's 11p.m. newscast.
The 49ers had a team meeting at 7 a.m. Friday.
Mathai said if Tight End Delanie Walker was a no-show, or if he was bloated at the meeting, you can probably blame NBC Bay Area.
Walker was one of four celebrity tamale-tasting judges Thursday night, on our public affairs show, Comunidad Del Valle
The other judges were Christie James of WILD 94.9, Mercury News columnist Mike Cassidy, and Iraq War veteran, Sgt. Major Alfonso Cadena.
Asked what the key would be in getting through all the tamales, Walker said, "You gotta hit me in the mouth", a reference to head coach Mike Singletary's football philosophy of hitting the other team "in the mouth."
Not missing a step, I asked Mike Cassidy to assess the changes in journalism, especially newspapers.
Cassidy said, "Boy, talk about getting hit in the mouth."
The judges spent the rest of the half-hour eating more than a dozen tamales from across across the country, including El Azteca Tamales from San Jose (www.elaztecafoods.com), Wally's Tamales from Woodland Park, Colorado (www.wallystamales.com), and San Francisco's Roosevelt Tamale Parlor.
The categories included chicken, pork, and deer meat tamales.
By the end of judging, Walker said, "I think all of them were good overall, and I'd do it again if I have to."
Tune in to watch the final results on Sunday at 11 a.m. on NBC Bay Area's Comunidad Del Valle, in conjunction with CasaQ (www.casaq.com).