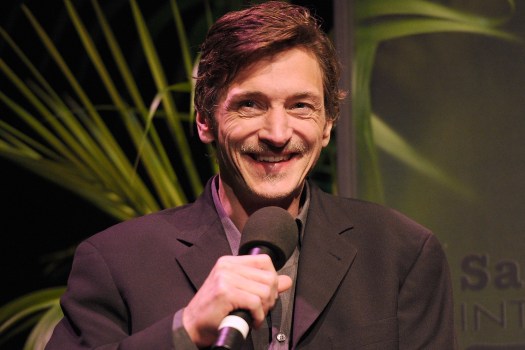 Getty Images
Oscar wasn't just throwing John Hawkes a bone with his Supporting Actor nomination.
"Winter's Bone" Oscar nominee John Hawkes tells PopcornBiz that fear factor really paid off: "I knew that the role scared me a little bit to do."
Hawkes admits that he had to overcome trepidation and take a risk to tackle the role of Uncle Teardrop in the indie film, which earned him an Academy Award nomination as Best Supporting Actor. "I wasn't exactly sure how I would do it, but I think the best things in life are often difficult and require a leap of faith," he says.
"I just knew in reading the script and loving the story that this was my kind of film," he says. "Then speaking to Debra Granik, the director, on the telephone for quite a while before I even got there to being work, it was exciting. I liked the way that she intimated that she was going to tell the story. It really lined up in ways that's hard to put into words, with ways that I like to tell the story. It was a good feeling all around."
The actor admits the awards buzz for his turn took him by surprise, even when it was a slow build. "There was a writer for Elle Magazine, Karen Durbin, who I think first really took notice and began to say that this was an award-winning performance and that Jennifer [Lawrence] had an award-winning performance and that the film itself was worthy," he says. "I mean, these are things that you hear, but never quite on that level for me. I had no idea that it would continue on for months and months and lead to this kind of recognition. I'm just really glad that it's bringing people to the film, because I'm really proud of the movie."
Hawkes, an actor who prefers to fly under the radar to more convincingly portray characters and admits to some reticence over all the attention, calls his Oscar experience "a surreal kind of whirlwind. I've been laying fairly low, I guess. I've been catching up with friends a little bit. I know my family is really proud of me and that's something that makes me really happy. It hasn't really been life-changing, but then again it kind of has felt like a dream – and I don't think it's even settled in yet, the excitement and magnitude of this. It's overwhelming."