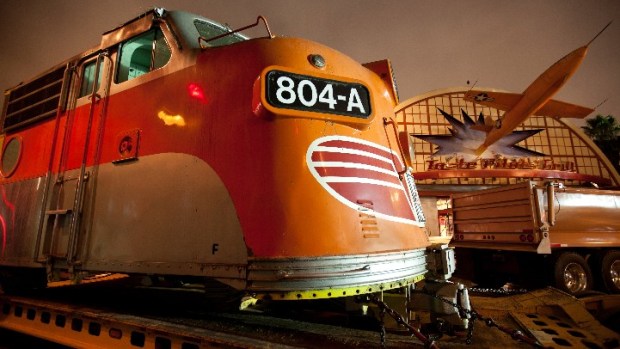 Disneyland
This California Zephyr has a new home at the Western Pacific Railroad Museum in Portola.
ALL ABOARD: What is the fate of the retired train? That's a question with several answers, of course. Some are brought out of retirement to run again, maybe on easier, tourist-heavy routes. Some are made into funky homes or diners. Some are scrapped and sit rusting in a junkyard, a fate that distresses the train buff. And a lucky few make for a museum after living at Disneyland for a few years. Well, make that Disneyland's California Adventure. The California Zephyr, with all of its sleek Moderne lines and toot-toot charm, could be found not too far from the Soarin' Over California attraction. Now Disneyland Resort has donated the historic train to the Western Pacific Railroad Museum.
CHOO-CHOO TIME: The train, says Disney, arrived at its new Portola-based home on Saturday, Aug. 6. A full-on exhibit is in the works for the Zephyr, meaning that fans will be making for the museum to see both the train and its storied background. So, maybe you're wondering why Disneyland made the donation. If you've been to California Adventure in recent days, you know there's a lot of expanding and reimagining and such. Bet the Zephyr, though, will find a lot of new fans in its latest home. Best watch this space to see when the pretty cab and parts'll be ready for visitors.