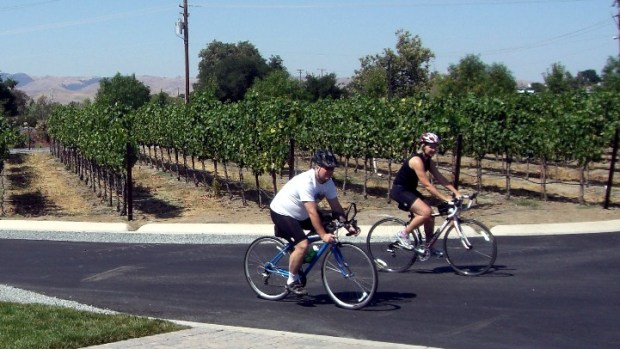 Tri-Valley California CVB
Cycle it by vines in lovely Livermore.
LIVERMORE LIBATIONS: Could it have been just a few months ago that we were wishing we were in Livermore on a particularly warm, Livermore-lovely September day? Why yes it was. Now we're dreaming again of that day, and we're on a bicycle, and we're trying local vinos, and we're returning to a hotel to rest from all that legwork (and lifting-a-glasswork, too). The Tri-Valley CVB has noted a new DoubleTree deal that includes biking and beverages and bites, three nice things. And we suspect you'll depart feeling like you've gotten to know the wines of the Livermore area. Or know them better. You're already a fan, yes? Yes.
DEAL DETAILS: The cost starts at $235, which includes a room at DoubleTree by Hilton, a frou-frou picnicky lunch, and a vine-adjacent biking tour. There will be wine at lunch, and oh. Oh! Oh. An olive oil tasting, too. That sort of pushes this whole package to the brink of deliciousness. (We love visiting the brink of deliciousness; you do as well, we'll guess.) It's running through the very end of 2011, so you have time to pick your ideal date. We're still all about September in Livermore, and a certain type of very sunny, semi-toasty fall day. It's kind of a feeling the area just owns.