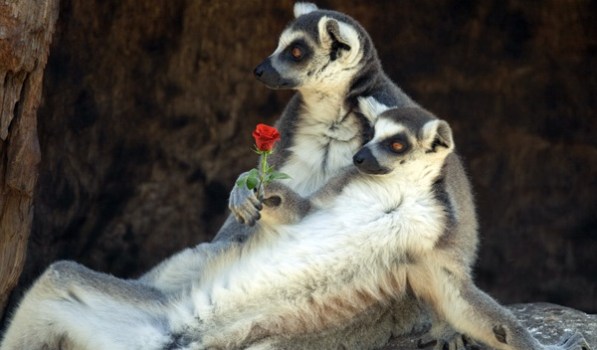 Safari West
Two lemurs hold a loving pose, at least to our human eyes. How do the beasties of Safari West go about celebrating amour? Find out at a Saturday, Feb. 15 outing at the Santa Rosa animal park.
FIND A SAYING THAT'S AS OLD... as "the birds & the bees"? Well, you could find a few, for sure, but it is difficult to come up with a tried-and-true go-to that's as long-lived, as delightfully winky, and as frequently tossed about. Did you hear it as a child? Do you use it as an adult? Are you fond of every song, poem, book, and movie that mentions it? It's wonderfully old-fashioned and yet..? Kind of perfect. The birds do it, yes, and so do the bees, and so does everything else, seemingly, under our solar system's giant sun. Which means that when Valentine's Day rolls around again, the curious-minded and have-to-know-ers among us turn our attention to the animal parks of our nation, many of which host a day devoted to animal courting, mating, and all reproductive matters. And even if you have various animal documentaries on around the clock, you know there are still things to learn from our animal brethren. Frogs that carry eggs in their mouths? The birds that decorate nests with shiny bits 'n bobs, the better to impress a potential date? Fascinating, forever and always. Safari West gets this humanly obsession behind the birds & the bees, meaning the Santa Rosa animal park throws a big amour party every...
VALENTINE'S DAY... or nearly. This year's Valentine's Day treat happens the day after the holiday, on Saturday, Feb. 15. A brunch and a reception -- African wine and beer will be served -- will be followed by a tour out into the park. The theme is "mating habits," and some of the stars of the day will include the wildebeest, zebras, warthogs, and cheetahs. While you'll likely see many of the beasties dozing or eating or hanging about, your tour guide'll provide the more intimate details as to how a mate is attracted. Fun stuff, and educational, too. And if you don't want to go with a group? There are private tours that cover some of the same topics d'amour. Cost is $135 for the day, and that includes brunch and the reception. And, yes, you guessed it: This is an adults only to-do.