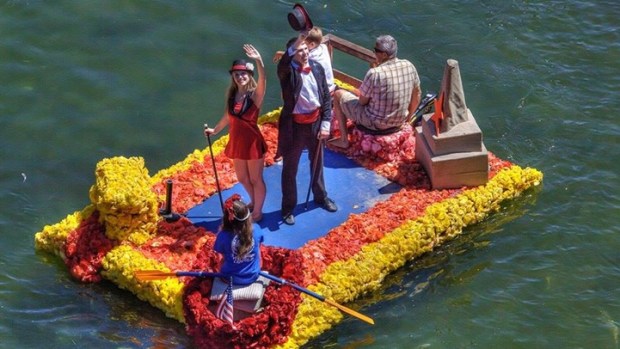 Capitola Begonia Festival
The Capital Begonia Festival's famous Nautical Parade floats down Soquel Creek on Sunday, Aug. 31.
BEYOND THE BUD: There are celebrated flower shows which are completely, totally, and unarguably about what is in the vase. Oh, sure, judges and attendees might discuss the vase's setting, or the table, but the happening is fully devoted to the stem, the leaves, and the petals at the plant's crown. But the venerable, quirky, and multi-happening Capitola Begonia Festival? Well, absolutely, begonias are the blossoming heart of the party, as they have been for six decades (make that six decades and two years, to be exact). Guests attempt to secure blossoms to chicken wire in a lively bout of mural-making, and begonias show up on hats, clothing, and, indeed, those famous water-ready floats, which are much photographed as any H2O-besting begonia-bedecked vessel should be. The Labor Day Weekend bash, however, has flowered well beyond its initial vase. True, the Nautical Parade is the centerpoint, but concerts, sand sculpture contests, a movie on the beach ("Annie," hooray), a fishing derby, and art to-dos aplenty fill in the calendar as well. It's the rare flower-themed event that remains both about the bud in question but handles a lot more. Want to see how Capitola does it? Be there from Friday, Aug. 29 through Monday, Sept. 1.
BEGONIA-RIFFIC: Pretty much everyone's first visit to the Festival involves Sunday's colorful Nautical Parade, where "Begonia-covered barges float down Soquel Creek to the Lagoon." It draws the bridge-lining, creek-clustering lookie-loos, for sure, but if you want a longer look at the sail-by floats, arrive earlier to watch as they "get their finishing touches." The celebration has been around for 62 years, and with fine reason: Ending the traditional summer season in a sunny, bright-petal'd manner feels like a rite we can all sign onto.