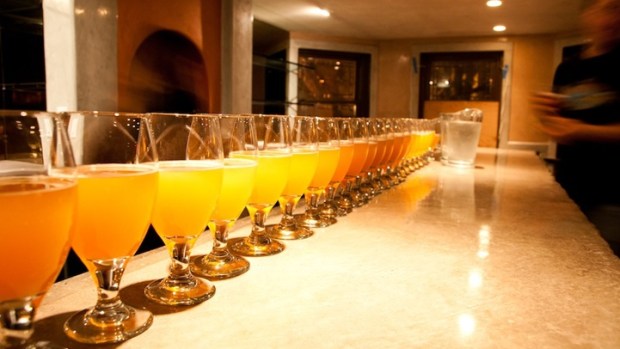 Sacramento Beer Week
The creme de la creme -- or the beer de la beer, rather -- makes a big showing during Sacramento Beer Week. It's on from Feb. 27 through March 9.
CALIFORNIA, THE KING OF CRAFTS: So many of our state's cities are so regularly spotlighted as places to find excellent beers and beer-makers that we're ready to suggest a new kind of map: One that only outlines the places where good brews aren't being made, for it seems to us those places would be few. Our statement comes with no cheek; rather it is simply to underline the face that the Golden State is not only going through a mondo sudsian renaissance of craftian proportions, but it designed and planned the renaissance itself. In short? A number of California cities -- San Diego, San Francisco, and Sacramento, among them -- are truly leading the charge on interesting boutique beers, as well as everyday brews that can be enjoyed without too much note-taking (lest "boutique beers" sounds a bit too fussy). Our capital, in fact, hosts one of the year's earliest, and biggest, brew gatherings: Sacramento Beer Week. Yep, it is longer than a week, as big food and drink to-dos around our state tend to be, and, yep, it is the kind of thing you might expect to see later in the summer, around the time that the California Beer Festival rolls. But it is indeed ready for its 2014 dates, which are...
FEB. 27 THROUGH MARCH 9: The Sacramento Brewers Showcase gets the barrels rolling on Feb. 27, with plenty of hopsy happenings to follow. Consider this a fine time, though, to get to know Sactown sud specialists like Rubicon Brewing Company and Track 7 Brewing Co., which makes a robust Big 4 Strong Ale. The full line-up of events, meet-ups, and food-meets-foam to-dos is soon to come, but best red-pen that week-plus on your calendar if getting to know another great craft beer city is something you might dig.