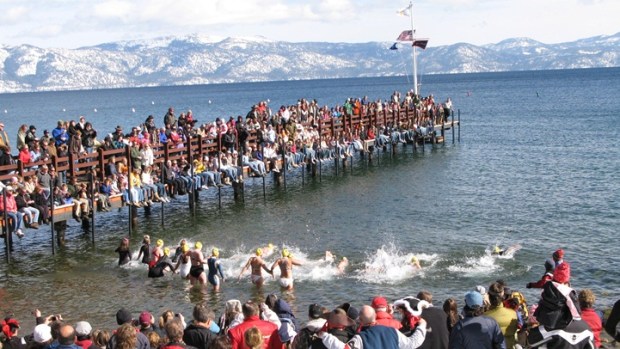 SnowFest
A centerpiece of North Lake Tahoe's annual SnowFest? A bunch of people running into the chilly lake. SnowFest is on from March 1 through 10, 2013.
ALPINE AWESOME: If you've ever been to Sand Harbor, the beachiest bit of Lake Tahoe's eastern shore ("beachiest"=sand, swimmers, stand-up paddle surfing), you know that, regardless of time of year, it stays, er, how shall we say? Hmm. Refreshing. Nope, Lake Tahoe never gets totally toasty, but this is what we love about it. We love its cool clearness and its alpine zing and that while it is delightful for wading it won't ever be mistaken for a hot spring or some sun-warmed pool of water. But what of Lake Tahoe in early March? That's when things get real, in the goosebump-inducing department. That fact will not deter the dozens of plungers set to run into the Shangri-La-like lake come Sunday, March 3. They're raising funds and awareness for Special Olympics, and oodles of supporters are set to cheer them on (while staying bundled and dry). The Polar Plunge is all a part of SnowFest, the 11-day party that pays tribute to a certain flaky-good substance rather associated with the area. SnowFest gets brisk from March 1 through 10, 2013.
MORE COLD FUN: The running-into-the-lake-to-raise-money fun isn't the only tentpole of the multi-day party. Parades, music, ice cream-eating contests -- brrrr -- bartending competitions, and a snow-sculpting showdown are on the let's-live-it-up list. Quick aside: Lake Tahoe does this whole "let's live it up" thing so well it seriously should give lessons to other places. We know, we know -- it's Lake Tahoe, so it is already miles ahead of most other places in sheer beauty and recreational possibilities. Still, they really seize that 'round those parts, which is why we all want to live the Tahoe lifestyle. Yeah, we made a generalization there, but we kind of doubt too many people will fight us on the whole wanting to live the Tahoe lifestyle assertion. Anyone? Anyone? Yep.