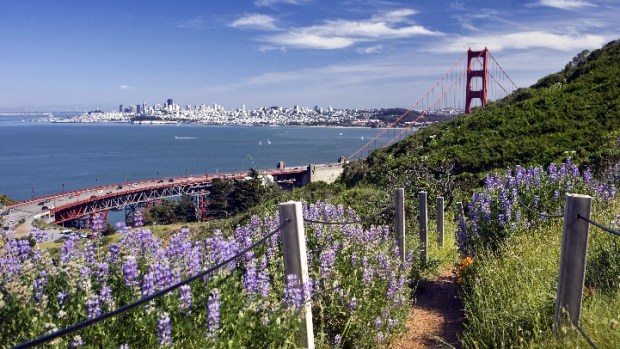 Kodiak Greenwood
Cavallo Point is oh-so-close to the Golden Gate Bridge. Celebrate the icon's 75th at the posh property.
BRIDGE AND BED: Everyone has their own feelings toward the great orange span that's become not only the icon of an iconic city but pretty much one of the premiere man-made symbols of the modern age. Yes, we said "feelings" there, not thoughts, for the Golden Gate Bridge inspires emotions in plenty of locals and visitors. And plenty of emotive types -- said lovingly -- will want to be as near as they can to the famous landmark when it turns 75 over Memorial Day Weekend. (Now there's something to gnaw on; how a bridge becomes nearly mythically famous in just three-quarters of a century.) While the festival, set to roll around the city on Saturday, May 26 and Sunday, May 27, will sate a lot of bridge lovers' appetites, still others will want to dream close to its orange-y towers. And they can, or at least close-ish, via Cavallo Point.
CAVALLO IS CLOSE: If you know the swanky historic property that calls the Marin Headlands home, you know that there are few places more snug against the bridge (okay, we're taking liberties with the word "snug" here, but the views from the hotel are pretty marvelous). So it isn't surprising, though it is delightful, that Cavallo Point is offering a Golden Gate Anniversary Package. There are two different versions of the package -- one includes the Golden Gate Gala Dinner but both'll get you into the 75th Anniversary Terrace Party -- so look them over. Figure you can do the fest and then bed down in the bridge's own neighborhood. That's kind of thrilling, we think, since you'll be adjacent to the star everyone's talking about.