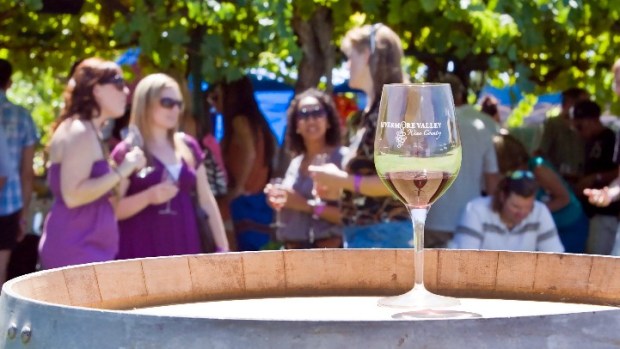 Steven F. Kelly
The Livermore Valley Harvest Wine Celebration raises a glass on the Sunday and Monday of Labor Day Weekend 2011.
SEPTEMBER SIPS: Labor Day Weekend is an ideal time to throw a multi-day wine festival. Figure that it is still warm -- quite warm -- break out the personal handfan warm, in some cases -- which makes visiting wineries a pleasure. And harvest is in the air come September, and talk of grape stomps and such will be much in the air. In short? It's our favorite long weekend for hitting the wineries. But others were thinking such thoughts long before we began typing this. Others like the organizers behind the Livermore Valley Harvest Wine Celebration. The venerable celebration turns 30 in 2011, and the Sunday, Sept. 4 and Monday, Sept. 5 to-do has plenty going on.
LIKE: The 32 wineries that will be participating (plus the 11 wineries that will be gathering at one of two designated locations to pour and talk to oenophiles). Like the "signature bus service" that's a part of the weekend (oh, if only every wine weekend had a signature bus service). Like a special tour of a beehive (bzzz bzzz, which should convey our excitement). Note that Sunday is the bigger day, while Monday will scale it back a bit; it's "a more intimate affair," says the Celebration people. A Sunday-only ticket is $45.