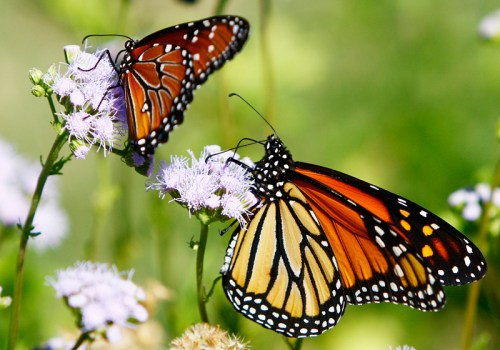 AP/The Daily Telegram
Monarch butterflies are beautiful sights much associated with winter. They'll be winging away from Pacific Grove around late February.
FLUTTER FLUTTER: There are many people who live in California who know that two of our larger wintertime migrations are gray whales and Monarch butterflies. And while some Golden Staters do make the effort to head down to a bluff or beach or out on a boat to catch a giant mammal's back rising out of the waves, if only for a moment, fewer people make the trek to see some of the prettiest wings on earth, in profusion. We're not sure if it is because a beach is easy to reach for many, or there's a boat trip involved (fun), but whales seem to be a bigger draw. And we'd never be one to pit whale against butterfly, not the least of which it sounds like a B movie from the 1950s. But a visit to a Monarch butterfly grove should be on every Californian's to-do list. And, like whale-watching, it's a to-do list with a fairly brief window: October to February. That's the time that thousands upon thousands of Monarchs are flitting in and about Pacific Grove.
WHERE TO SEE THEM: The Monarch Grove Butterfly Sanctuary is a great spot to start (the name is a giveaway). The butterflies love their eucalyptus trees, and those are what this grove provides. It's right in Pacific Grove proper, so you won't need to journey to far into nature to commune with small flying things, and it is free. But note the calendar: While the sanctuary is open all year long, the Monarchs start their waves goodbye in February. There's still time for butterfly buffs to get some multi-Monarch action.