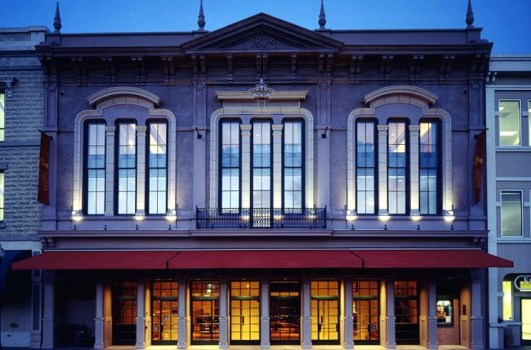 Napa Valley Opera House
It's "Across the Universe" sing-along night at the Napa Valley Opera House on Sunday, Aug. 7.
COINKIDINK? Or not? With "One Day" headed for theaters in a fortnight, we've been thinking of Jim Sturgess, and how we enjoyed "Across the Universe," and how the Julie Taymor flick has been popping up hither and yon at outdoor screenings and other spots that give it cult-film cred. Have you been thinking all these things, too? We wouldn't be surprised, given the winsome powers of this actor and film (props to Evan Rachel Wood, too, and the talented cast -- especially Eddie Izzard as Mr. Kite). Now you can revisit the four-year-old film and in a lofty setting, too: the Napa Valley Opera House. The pretty landmark is holding a Beatles-y sing-along, and you only need to the will to warble.
THE LONG AND WINDING ROAD... Isn't too long, given this is happening in Napa. It's also happening on Sunday afternoon -- Sunday, Aug. 7, to be specific -- which often could use something a bit zazzazz-ish to fill it. We'll vote singing along to this film as plenty zazzazz-y. It's twelve bucks to get in, which is about what a movie ticket normally costs, except you can't sing in movie theaters. Well, most movie theaters, anyway.