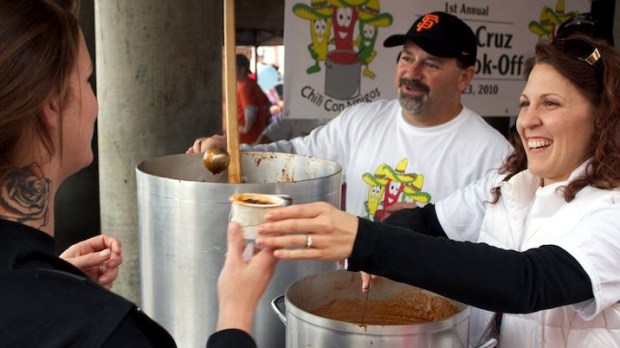 Santa Cruz Beach Boardwalk Chili Cook-off
Can you taste it now? Oh yeah. The Santa Cruz Beach Boardwalk Chili Cook-off is on Saturday, Oct. 22.
BEACH HEAT: Heat near the waves is not uncommon. It typically visits a shore in, say, early August, when temperatures can test the thermometer and bathing suits, rather than clothing, are the dress code. But sometimes we prefer our heat to come in a small paper cup, maybe with some extra jalapenos and chopped onions on top. The day can be drizzly and damp but beneath our parka? We're all aglow. And w usually have have chili to thank for that sensation. And if you're at the Santa Cruz Beach Boardwalk Chili Cook-off on Saturday, Oct. 22, you, too, can feel that special (inside) heat at the beach. It certainly came in handy at last year's competition, which, by the look of the photos, could in no way qualify as "bikini weather." Drizzly. Chili weather. Hearts.
BUT THAT'S OKAY: Because cups o' chili and late October? Old buds. Way back. Teams will be of both the amateur and professional variety -- we do love 'em both, when it comes to chili-makery -- and a "taste kit" can be purchased for eight bucks. That'll nab you five tasting tickets and the accouterments you'll need to sample. Aw dang. "Accouterments" is way too highbrow a word for a chili contest on the beach. How about spoons and stuff? Yeah, that'll do. The public tasting kicks off at 1 p.m., but the cooking, of course, gets going earlier. If you like to watch pots boil. Who doesn't?