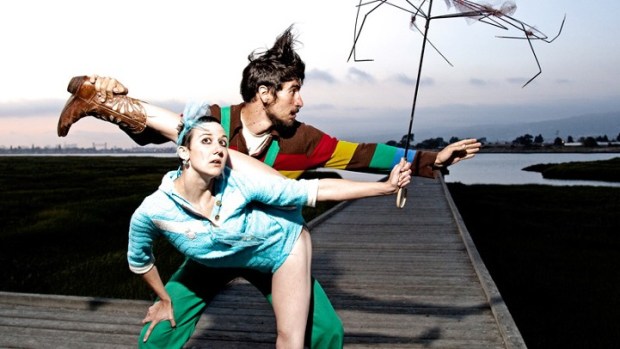 Button Wagon
Button Wagon will perform during the 2012 Santa Cruz Fringe Festival. It opens on Friday, July 13.
HIGH JINKS AND ART: No one will get all blustery if we were to describe the Edinburgh Fringe Festival as the most famous fringe festival on the planet, right? Good, because the spirit of fringe and the fuss of bluster absolutely do not go hand in hand. Edinburgh indeed is the standard-bearer for summertime buskery and clowning and performance and comedy and song, but the tricky bit is it can be so very far away if one has not planned well and one cannot leave work, home, or school. Edinburgh, we want to visit, we do, but we will also support our homegrown fringers like the Santa Cruz Fringe Festival, which is set to cartwheel into the middle of our ho-hum lives on Friday, July 13. And, hooray, it intends to keep something of a long welcome, staying right through Sunday, July 22.
WHO IS PERFORMING: Button Wagon, a duo brimming with mystery and etherealness, is on the slate. The big-top-minded Circadelix will also be three-ringing things, at least in spirit, during the 10-day run. And The Deltiologists will break out the quirky performance art. There are just over a half dozen venues participating in all, so you'll want to eye the map before making for Santa Cruz. And if this all puts you in the mood for the San Francisco Fringe, take heart: That's coming up in September. Oh, if only we could all wing over to Edinburgh to fill that August gap. Wish fairies, do you hear us?