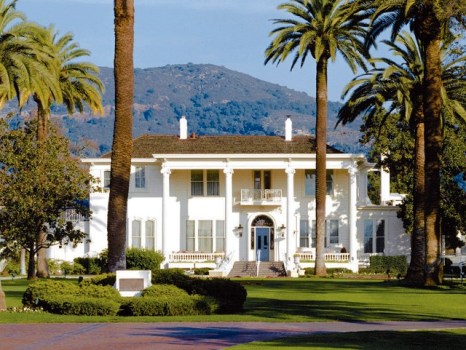 Silverado Resort & Spa has a bevy of romance packages for Valentine's 2011.
NAPA-STYLE SWEETHEARTERY: We're a couple of weeks out from February 14, 2011, which means the hot lines are likely lit up up at various wine country hostelries. One Napa Valley property is going whole hog -- or heart, rather -- with a few Valentine's packages, including the Romance Package and the Create Your Own Romance package. That spot is the Silverado, and both packages are available through the end of February (and good thing, too, since Valentine's is falling on a Monday this year, which is distinctly unweekendy.
CREATE YOUR ROMANCE: The deal has a nice room, the bed-close rose, the bubbly, the sleep-in-a-bit offer. But, there are add-ons. Our favorite? Balloon ride. Another favorite? Wine train lunch. In fact, "balloon ride" and "wine train lunch" are just five nice words, no matter how you slice 'em. The package has details, so read all. Price is $849 for a weeknight, more for a Friday or Saturday.