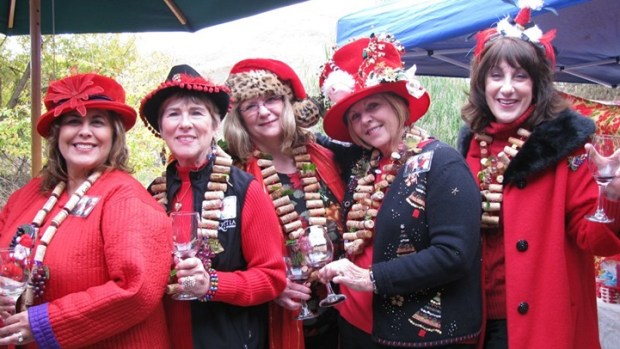 Livermore Valley Wine Country
The vineyards of Livermore Valley don the holly for Holidays in the Vineyards. Oh, and pours the wine, too, of course. It fa la las on Saturday, Dec. 7 and Sunday, Dec. 8.
HOLIDAY REQUIREMENTS: If you had a checklist of everything the holidays needed to be truly complete, what would it say? Yes, it only needs one item -- "family & friends & love" -- near the top to be called a finished list, but we'll wager that people tend to add other bullet points to the checklist. Music and wrapping paper and toys and such probably fill it out, as do silly hats and blinking bulb necklaces and liquid cheer and a bit of natural beauty, too. The handy thing about most of those items is they can be enjoyed in one festive fell swoop over wine country December weekend. Several of the Golden State wine areas throw one, gather-up-all-the-wineries shindig, and then they a giant handful of glitter atop it all. Livermore Valley Wine Country is planning to do just that, over the first full weekend in December, the 7th and the 8th. It's called Holidays in the Vineyards, and if you think that string quartets'll be around, playing carols, and people pouring cabernet'll be wearing snowmen-bedecked sweaters or similar, and there'll be discounts for wine-y gifties, you'd be entirely correct.
TASTINGS AND TOYS: A couple of things from the outset. "This is not a ticketed event," says the organization, so know that you'll pay tasting fees and try-out-wine ticket prices at various wineries. Also, a goal of the day is to stir up a whole lot of sweet things for Toys for Tots, so showing with an unwrapped toy or three is the thing to do. And now, for the jingle-bellian bits of the two-day hullabaloo: "Santa visits" are promised, as are "special wines" and art and crafts for sale. Seriously, just think of Holidays in the Vineyards as the sparkly sum-up of your seasonal to-do list, with an emphasis on A) giving, via Toys for Tots and B) the liquid cheer end of things. It's true: You can make it through all of your to-dos in a single December weekend, and have a good time doing so.