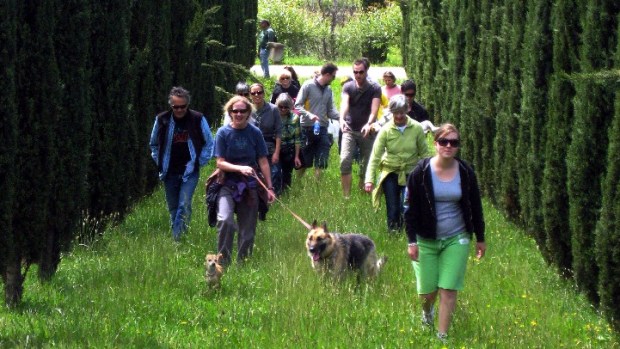 Saracina Winery
The annual Saracina Winery Earth Day Dog Walk is back in 2012. Arf!
EARTH DAY STROLL: While there are many ways to honor and observe a certain planet-minded day in April, we can all agree that most people do so by being outdoors. Some are planting trees, some are joining 5Ks, some are at music festivals, and a lucky few are spending their day with their dogs. (Dogs may not be aware it is Earth Day but they are, of course, earthlings and like living here as much as we do.) Saracina Winery in Hopland hosts one of our favorite observations of the day because it combines two things many people are rather fond of. One, and first and foremost, is their pup. And two? Wine. It's the annual Earth Day Dog Hike through the vineyards, and it'll wag again on Saturday, April 21.
STROLL AND PICNIC: Participants will roam with their BFFs around the 600-acre estate. After? A picnic lunch and wine tasting with owner John Fetzer (the visiting pups will also get treats and water, so as to not be left out). Cost is $25 per person and $45 a couple. Also note: If you intrigued by Hopland, and want to get out and get to know more of the area's wineries. the Hopland Passport is on two weeks after the Earth Day picnic. That's Saturday, May 5 and Sunday, May 6.