Ponderosa Wildfire Calming Down
Three fires are still burning in Northern California.
Monday, Aug 27, 2012 | Updated 1:20 PM PDT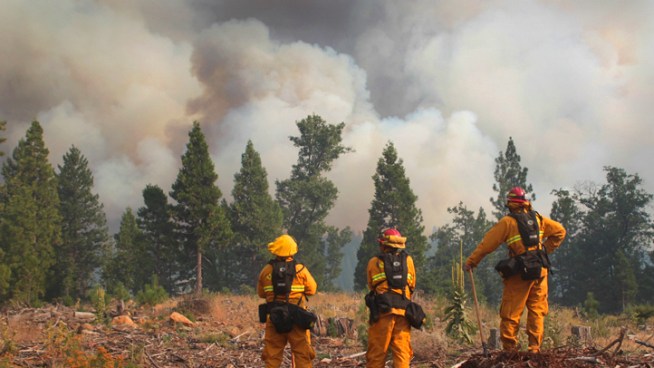 AP
Firefighters monitor the Ponderosa Fire, Sunday Aug. 19, 2012 from Rock Creek Road near Viola, Calif. Thousands of people have been told to leave their homes as a wildfire burning Sunday in thick forest threatened rural communities in far Northern California. (AP Photo/The Record Searchlight,Andreas Fuhrmann)
Officials say firefighters battling two major wildfires across Northern California are hoping to fully contain the blazes this week.
CalFire spokeswoman Julie Hutchinson said Monday that the Ponderosa Fire located 25 miles southeast of Redding is now 85 percent contained after consuming more than 43 square miles and destroying more than 142 structures.
Hutchinson says despite possible winds, crews expect to have the fire fully contained Tuesday.
A second major fire in the region, this one burning in Plumas National Forest, is now 65 percent contained after scorching more than 104 square miles.
Hutchinson says crews still expect the blaze that began on July 29 fully contained by Friday.
A third fire burning outside the Mendocino County community of Covelo is now 34 percent contained after consuming 42 square miles.