Raiders to Hire Packers Executive Reggie McKenzie as General Manager
The former player was once drafted by the Raiders to play linebacker.
Friday, Jan 6, 2012 | Updated 11:18 AM PDT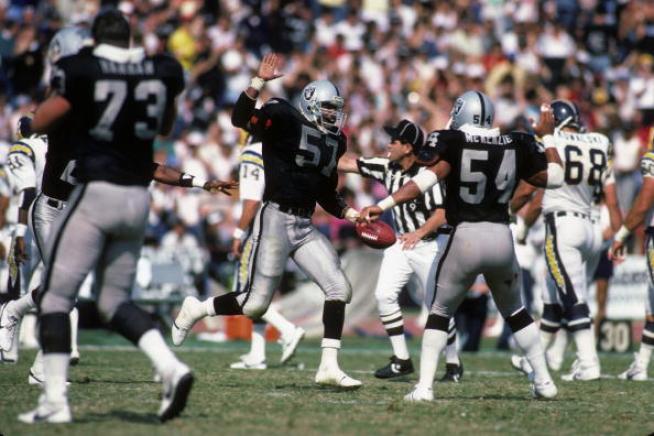 Getty Images
(L-R) Linebacker Jerry Robinson #57 of the Los Angeles Raiders celebrates with fellow linebacker Reggie McKenzie #54 during the game against the San Diego Chargers at the Los Angeles Memorial Coliseum on Sept. 28, 1986. Years later McKenzie will be the team's new GM.
The Oakland Raiders are reportedly set to hire the team's first general manager in the post Al Davis era.
ESPN is reporting that the Raiders will hire Green Bay Packers director of football operations Reggie McKenzie as their general manager.
ESPN cited an anonymous league source who said both sides are still working out details of McKenzie's role. ESPN's radio affiliate in Milwaukee later reported that McKenzie had confirmed the news of the move through a text message but declined to comment further.
Raiders owner Al Davis had effectively served as the team's general manager until his death in October.
ESPN says that McKenzie, who played linebacker for the Raiders from 1985-88, officially interviewed with the team Wednesday.
McKenzie joined the Packers as a pro personnel assistant in 1994.