Small Explosion Injures Man in Tenderloin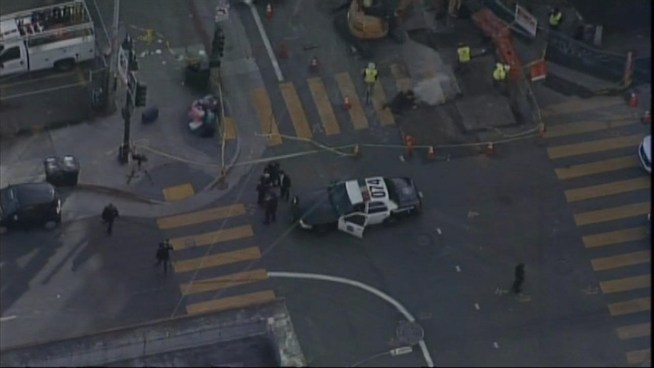 One person was transported to the hospital after a firework went off in San Francisco's Tenderloin neighborhood this afternoon, a fire official said.
An explosion in San Francisco's Tenderloin Friday afternoon sent one man to the hospital.
San Francisco police said a man was transported to San Francisco General with an upper body jury after some kind of homemade device exploded.
This happened at 1:30 p.m at the intersection of Golden Gate Avenue and Jones Street.
Witnesses say the victim, who was homeless, was hurt while he was laying by the trash can. They said they heard a loud bang and when they turned around they saw a "poof" of smoke.
San Francisco police spokesman Officer Albie Esparza said a homemade device went off near a city-owned garbage can and shrapnel hit a homeless man in the upper body.
Golden Gate Avenue was closed from Leavenworth to Jones while police investigated.
After the device went off witnesses told police they saw a man leaving the area. Police believe he is the suspect responsible for the explosion. He was described as a white man in his 30s standing about 5 feet 10 inches tall and weighing 160 pounds.
The victim's injuries were described as significant by police, but people on the scene said they did not appear to be life threatening.
No other devices were found and the explosion appears to be an isolated incident.