Small Plane Crash Injures 2 in Concord
FAA says pilot missed the approach as he came in for a landing.
Tuesday, Dec 27, 2011 | Updated 5:49 PM PDT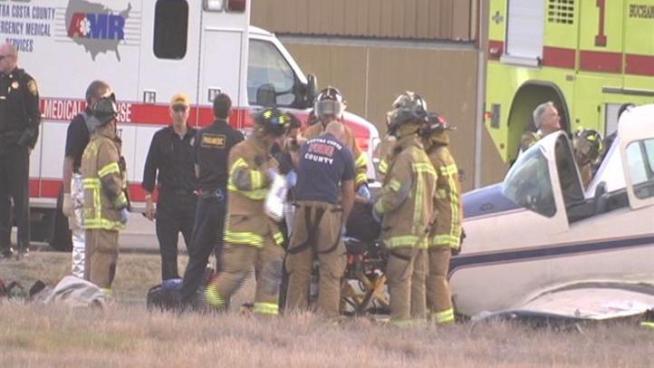 Craig Cannon
Raw video footage of small plane that crashed, injuring two at Buchanan airport in Concord.
A small airplane crashed at an airfield in a San Francisco Bay area suburb of Concord, injuring two men, authorities said Tuesday.
The single-engine plane missed the runway and ended up in a grassy area at Buchanan Field at 3:21 p.m., the Contra Costa Fire Protection District reported. Preliminary information indicates the pilot radioed air traffic controllers to report a problem before landing, Capt. Kent Kirby said.
Both men aboard the plane were in good condition and were expected to go home Tuesday evening, said Chris Perez, a nursing supervisor at John Muir Medical Center in Walnut Creek. No further details on their identities were immediately released.
The Federal Aviation Administration and National Transportation Safety Board were en route to the scene, Kirby said.
Buchanan Field's north runway remained closed while authorities investigate the crash site.