Vianey Arana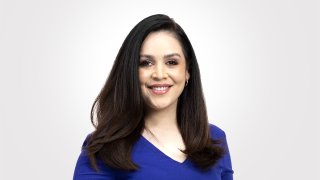 Vianey Arana is a meteorologist on NBC Bay Area at 4:30 and delivers her unique brand of weather and climate change reporting to Bay Area viewers.
Vianey joined NBC Bay Area weather in September 2016 as a weekend morning weather anchor. She also regularly reports from the field on significant weather or community stories. You can also catch Vianey during our weekday newscasts when she fills in.
Vianey joined NBC Bay Area from KTSM (NBC) in El Paso, Texas, working as a reporter, news, and weather anchor. She served as the main anchor for affiliate station KVEO's 5 p.m. and 10 p.m. newscasts during her time there.
Vianey started her career back East at Noticias Univision in Boston. There she honed her skills as a weather anchor and entertainment reporter. Vianey also reported for various entertainment/news outlets in Los Angeles. As an intern, she had the opportunity to host her segments on health/hair/beauty tips on Viva el 22 MUNDO FOX.
Vianey was born in the lively scenic countryside of Jalisco, Mexico. Although she came here very young, her family has maintained its rich Hispanic culture and tradition. Her parents have always stressed the importance of keeping the Spanish language alive in the family. Vianey is a proud graduate of Cal State University at Northridge with a Bachelor's degree in Broadcast Journalism.
When she's not working, Vianey is looking for her next adrenaline rush, whether taking on a new project, hiking a rocky mountain, or volunteering in her community.
Follow Vianey on Twitter @NBCVianeyArana
Like her on Facebook at Facebook.com/NBCVianeyArana