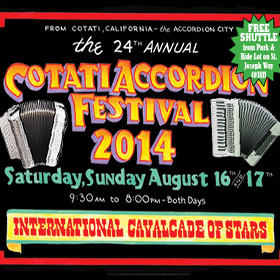 The 24th Annual Multi-Cultural, Multi-Generational, Nonprofit Cotati Accordion Festival will be taking place this August 16th & 17th in La Plaza Park in downtown Cotati, Ca.
This celebrated event will feature The International Cavalcade of Stars with Vincenzo Abbracciante of Italy, Jinan Tian of China, the Russian music of Trio Voronhezh and the legendary Dick Contino of the U.S.A.The festival will also present over 30 accordion acts, the zydeco dance party, the polka tent, the jam tent, the accordion apocalypse stage, food vendors, beer, wine and over 70 booths.
Tickets are $15.00 in advance, $17.00 at the gate, and $25.00 for both days. They may be purchased by calling 1-888-559-2576, or at all Oliver's Markets, The Last Record Store and People's Music.
For more information, click here
When: August 16 - 17, 2014

Where: La Plaza Park
Downtown Cotati
Time: 9:30 AM to 8:00 PM