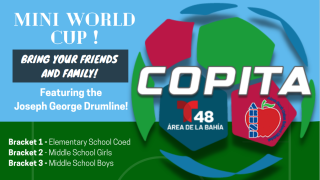 Join NBC Bay Area, Telemundo 48 and NBC Sports Bay Area in partnership with the Alum Rock Unified School District for "Copita," a mini world cup soccer tournament on Saturday and Sunday, April 30th – May 1st, from 8 a.m. to 8 p.m. at Overfelt High School.
This free event will feature soccer tournaments from beginning to end, music, tasty treats, surprise mascot appearances from professional sports teams, and a resource fair for the whole family to enjoy.
Telemundo 48's Carlos Yustis will emcee the event and award the winning team their trophy and official Copita T48 ARUSD Championship title.
Don't forget to tune into Telemundo 48 for exclusive behind the scenes coverage with the teams participating in the tournament.
Come out and support your school in the first annual Copita T48 ARUSD!
When: Saturday Apr 30 & Sunday May 1, 8 am - 8 pm
Where: Overfelt High School
1835 Cunningham Ave.
San Jose, CA 95122
Admission is free and open to the public.