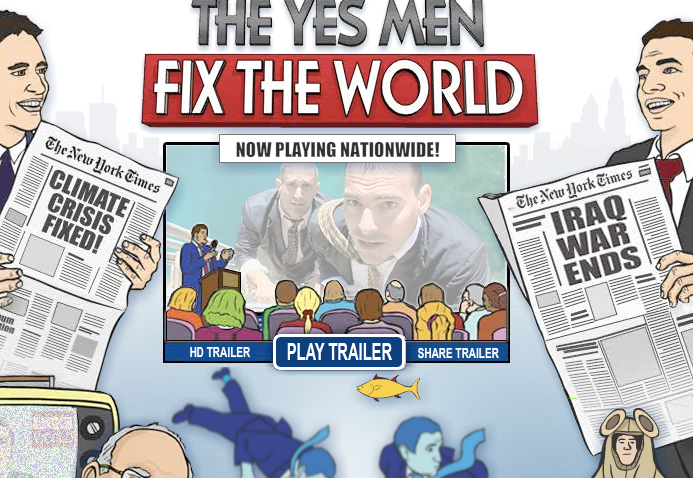 WHY YES, SIR, I WILL FIX THE WORLD: The Yes Men are anti-corporate pranksters who get themselves into high-level media events where they unmask global injustice in hilarious ways. This time, as spokespeople for Dow Chemical, they've announced that they will at last take full financial responsibility for the victims of Bhopal - naturally, chaos ensues. If you never saw the original The Yes Men, be sure to catch The Yes Men Fix the World tonight at the Roxie, at 7 p.m. or 9 p.m.
MUSICAL BIOHAZARD: Hold a handkerchief over your nose, but leave your ears exposed. Tonight The Airborne Toxic Event plays at the Fillmore. Inspired by family members suddenly stricken with disease and enriched by classically trained musicians, this group is well worth a level red alert. Concert starts at 8 p.m., buy tickets here.

THE RETURN OF LOS MUERTOS: Hopefully you all enjoyed halloween, because it seems you have yet to escape it. Tonight at Bring Back the Dead enjoy craft displays, a mask demonstration, sugar skulls and Pan de Muertos y Chocolate at the Mission Cultural Center for Latino Arts. The reception goes from 6 p.m. to 10:30 p.m.