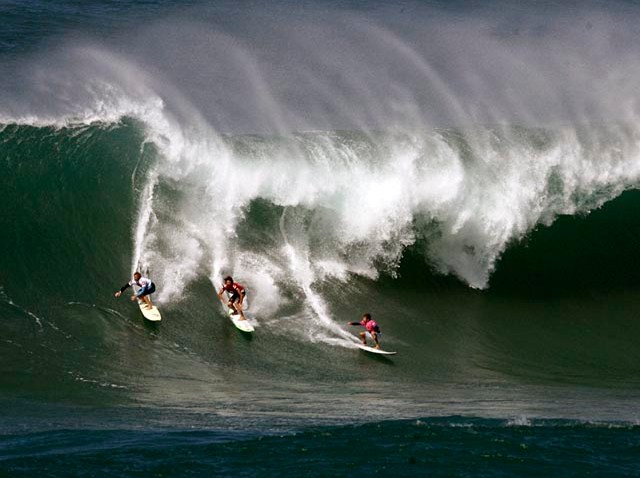 Greg Long of San Clemente may have just rode Waimea for the first time this week, but that didn't stop him from a come-from-behind victory at the world's most prestigious big-wave surf contest.
Long's four top scores -- including a perfect 100-point ride -- led him to victory over some of surfing's biggest names. The 26-year-old took home a $55,000 winner's purse.
"I never would have thought that this is my first year surfing the event and to come away with a victory is really a childhood dream become real," he said. "I'm still standing here in awe and I want to go check the scores to make sure someone isn't going to come here and take this away."
About 25,000 spectators attended, as Waimea was hit with 30- to 45-foot surf, The Honolulu Advertiser reported.
Even though this year was the 25th anniversary of the contest, it's only actually been held eight times. Waves need to reach a range of 20 feet or more, The Associated Press reported:
The contest is held in honor of Eddie Aikau, a legendary Hawaiian surfer, Waimea Bay lifeguard and waterman. Aikau died in 1978 at the age of 31 when the traditional Hawaiian voyaging canoe he was on capsized en route from Hawaii to Tahiti. Aikau paddled on his surfboard toward Hawaii's Lanai island, 19 miles away, to get help, but never returned. The rest of the crew was rescued soon after.
Long is the first Californian to win the title, the Advertiser reported.
Final Results:
Greg Long (California)
Kelly Slater (Florida)
Sunny Garcia (Hawaii)
Bruce Irons (Hawaii)
Ramon Navarro (Chile) * Monster Drop Award
Ross Clarke-Jones (Australia)
Jamie O'Brien (Hawaii)
Mark Healey (Hawaii)
Garret McNamara (Hawaii)
Noah Johnson (Hawaii)