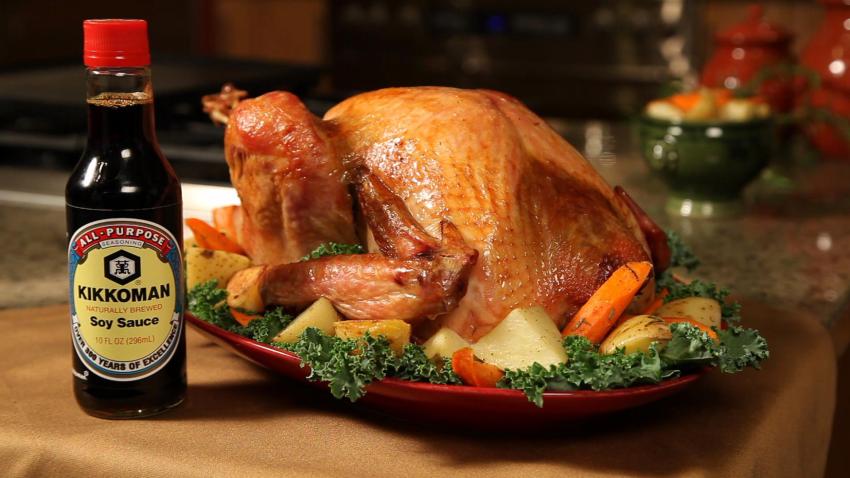 The following content is created in consultation with Kikkoman USA. It does not reflect the work or opinions of NBC BAY AREA's editorial staff. To learn more, visit Kikkomanusa.com
With Thanksgiving and Christmas around the corner, 'tis the season for checklists. As in: Did I buy enough gifts? Do I have enough table settings? Have I mentally prepared for the in-laws?
But with all the action afoot, let's not forget the most critical question we should be asking ourselves: How do I ensure that my Thanksgiving or Christmas dinner turkey is flavorful and juicy?
Well, fear not, gracious host, because you don't need to be a celebrity chef to solve this little culinary conundrum. By simply brining your turkey, you'll be serving a bird that is bursting with juicy flavor.
And luckily, Kikkoman--makers of the world's tastiest soy sauce--has all your bird brining needs covered with their Juciy Bird Project.
Visit Kikkoman's website
for tips and videos on how to best prepare your bird, and don't forget to register for their
Juicy Bird Project sweepstakes
here to be eligiable to win $10,000.
By using Kikkoma's soy sauce to create a savory turkey brine, you'll impress all of your guests with flavorful, fall-off-the-bone tender meat. Just follow these five easy tips for a juicy bird:
Brine: Brining helps meats retain juices during roasting.
Use Kikkoman Soy Sauce brine. Soy sauce boosts the savory flavor in your roasted bird.
A brining bag and bucket make the process easy. Just line a stock pot or brining bucket with the bag, twist to close, and store in the fridge over night.
Get ready for the holidays by brining a chicken first to get into the brining groove.
You can make gravy as usual from the brined bird juices. Kikkoman brine doesn't add a salty or Asian flavor, it just brings out the savory goodness of any bird you brine.
So take a stand this Holiday season against dry, flavorless turkey by following the simple steps above. And don't forget to pick up your Kikkoman soy sauce. For more cooking tips, visit
Kikkomanusa.com
.