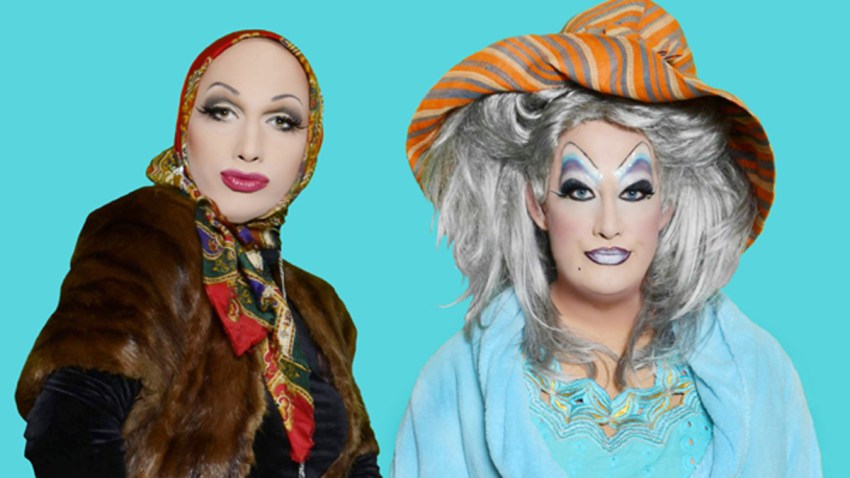 Reigning "Drag Race Superstar" Jinkx Monsoon can forgive the folks who don't know the Edies—Big and Little—who appeared in the acclaimed documentary-turned-musical-turned-docudrama "Grey Gardens."
"No one can be privy to every gay phenomenon and cultural thing," said Monsoon, who will soon be seen in "Little Edie" garb in San Francisco. Peaches Christ will present a stage show and screenings of "Grey Gardens" at the Castro Theatre on Saturday, October 12.
One of the challenges that helped Monsoon become the latest champion of "RuPaul's Drag Race" was a "Match Game"-style challenge in which Monsoon portrayed Edith Bouvier Beale, cousin to Jackie O. and daughter of Edith Ewing Beale, a.k.a. "Big Edie."
The duo came to light—and to the delight—of camp-loving audiences during the late '70s with the release of a documentary about their bizarre habitation in the dilapidated titular house, "Grey Gardens."
Peaches Christ said her shows are celebrations of cult films with their biggest admirers, and "Grey Gardens" is a film that gained an ardent following quickly.
"I remember attending a screening of the film at the Castro Theatre 17 years ago and feeling the love the audience had for these women, cheering on their performances when the Edies sang and danced," Peaches said. "You could really feel how connected people felt to the subjects in the movie."
Jinkx Monsoon said she was about 17 when she discovered the musical version of "Grey Gardens," starring Christine Ebersole and Mary Louise Wilson, and fell in love with it not knowing it was based on real women. Monsoon then became obsessed with discovering all things Beale and Grey Gardens.
"The second I saw 'Little Edie,' I knew she was going to be my new character inspiration, and she has been ever since," she said.
Donning a head scarf and using a magnifying glass to debate whether a tin can was cat or people food, Jinkx Monsoon delighted some and bewildered other "Drag Race" cast mates with her impression of "Little Edie."
"My only issue was with the people who didn't know who she was poking fun at me for knowing," Monsoon said. "I never think it's a smart idea to revel in one's ignorance."
Peaches Christ's pre-shows before film screenings have become legendary in San Francisco, and Monsoon is tickled to be part of one. She said fans can expect to see the best moments of the Edies re-envisioned with a drag sensibility. Monsoon will be Lil' Queeny with Peaches taking on Big Queeny. Expect songs, a supporting cast of feral cats and raccoons, and a new outfit for Monsoon.
"It's based on the outfit she wore for her Reno cabaret show that she did before she passed away," Monsoon said. "I'll probably have a more daytime pedestrian look, and I'll change into my glamour look. I'm going full-on white hair and housecoat."
Peaches also found a role for old friend and cult film icon, Mink Stole, in the pre-show production.
"I made sure I had a part for her inspired by the Beales' friend, Lois," Peaches said. "Mink was the first cult movie star to come and do my event over a dozen years ago." Fans will get a chance to hear Stole perform a number from her new album, "Do Re MiNK."
Monsoon's season of "RuPaul's Drag Race" was notable for having a pageant queens versus comedy queens theme.
"It's not like we're cats and dogs. We're all the same species," she said about the rivalry during the season. "In the end, not only did Alaska [second runner-up] and I end up going further than any other campy, comedy queens, but we both made it to the top three. I think comedy queens are reclaiming their stake in American drag."
Another campy, comedy queen from "RuPaul's Drag Race," Pandora Boxx, will co-star with Peaches Christ in "Workin'," the pre-show to a screening of the comedy classic "Nine to Five," also at the Castro Theatre on Saturday, November 23.
Peaches said a cat fight between "Nine to Five" star, Dolly Parton, and Pandora, who is playing her character in the pre-show, would be no contest.
"Dolly would win, mostly because Ms. Boxx would just be bowled over by all of that legendary fierceness. Nobody can compete with Dolly. Nobody."
"Grey Gardens" will be presented at 3 and 8 p.m. on Saturday, October 12. For more information about upcoming Peaches Christ productions, visit www.peacheschrist.com.
Corey Andrew has been interviewing comedians and writing about comedy for the last decade and a half. He recently published the book, "Laugh Lines: Conversations with Comedians." Corey was a writer and performer with Midwest sketch troupe, The NonProphets, before moving to the Bay Area with his family several years ago. If you have ideas for future columns about comedy, you can send them to coreywrites@yahoo.com or follow him at twitter.com/coreywrites.