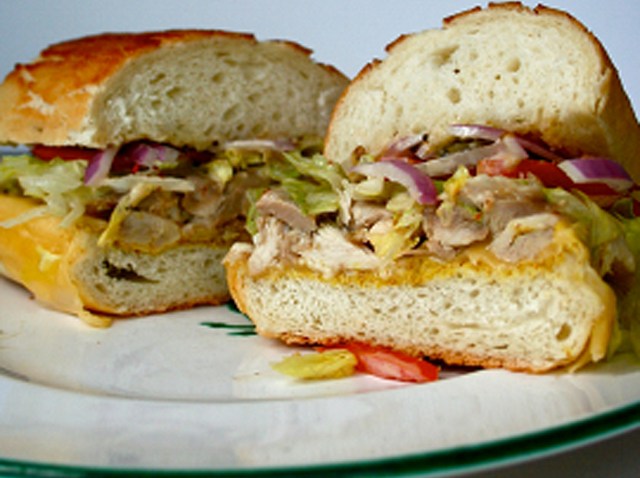 The best opportunities come from simply knowing the right people -- if Mike "Brownie" Brown didn't know Dubya, he'd probably still be measuring horse wangs, instead of showing what he could really do at FEMA. Similarly, networking his way into the sandwich game is the man who runs Bite.

When the owner of 912 Sutter St. in San Francisco asked his neighbor if he knew anyone up to the task of running a street side sandwich shop, the neighbor was like, duh, my DJ buddy who makes the best sandos ever. And a few months later this breezy little blue-awninged, outdoor seat-bedecked sando and more joint was born (it's a boy!).

Fat specialty meat-wiches range from the Gotti on sourdough (with mortadella, salami, ham, provolone and more), to the Dutch crunch-bound Gouda Good (Gouda, chicken, pepperhouse sauce), to the Day After Thanksgiving on French, with turkey, cranberry, Swiss.

But there's so much more: spit-roasted chicken (half or whole) comes with your choice of chili, slaw and more while hot sausages come with whatever fixings you want, and range from brats, to garlic franks, to "The Atomic," because, international regulations or not, you're dropping The Bomb.

Rounding out Bite's grub is a list of typical salads which are served huge, like Cobbs, Nicoises, and Greeks. No word yet on desserts, but if they're thinking about going that route, you can't go wrong with Brownies. They're huge.
Bite is open until 2 a.m. and is located at 912 Sutter St., at Leavenworth, in San Francisco's Nob Hill district.


Copyright Archive Sources